MUMBAI - Maldives island residents saw "low flying plane" on the morning of disappearance of the Malaysia Airlines flight MH370, Maldivian news website Haveeru reported.
Haveeru reported that residents of the remote Maldives island of Kuda Huvadhoo said they saw a "low-flying plane" around 6.15am (Maldivian time) on March 8, the day when the flight disappeared.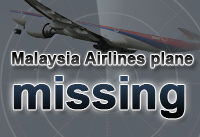 Passengers' and their nationalities:
Chinese 154 
Malaysia 38
India 5
Indonesia 7
Australia 6
France 4
USA 3 
New Zealand 2
Ukraine 2
Canada 2
Russia 1
Italy 1
Netherlands 1
Austria 1
It also said the residents reported that that it was a white aircraft, with red stripes across it like the planes operated by Malaysia Airlines.
Eyewitnesses from the Kuda Huvadhoo concurred that the aeroplane was travelling North to South-East, towards the Southern tip of the Maldives -Addu island. They also noted the incredibly loud noise that the flight made when it flew over the island.
Haveeru quoted an eyewitness as saying: "I've never seen a jet flying so low over our island before. We've seen seaplanes, but I' m sure that this was not one of those. I could even make out the doors on the plane clearly."
The eyewitness said many other people on the island have also seen the plane.
Mohamed Zaheem, the Island Councilor of Kuda Huvadhoo, said that the residents of the island had spoken about the incident, according to Haveeru.
The Malaysia airlines jet MH370 disappeared on March 8 with 239 people on board after taking off from Kuala Lumpur bound for Beijing. Investigators say it was deliberately diverted off course.
Twenty-six countries are now helping to hunt for the plane after satellite and military radar data projected two huge corridors through which it might have flown.
Australian and American authorities on Tuesday said they had begun searching the remote Indian Ocean for the missing jet. They conceded it was like looking for a needle in a haystack.