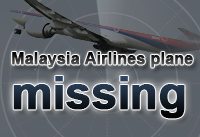 KUALA LUMPUR - Malaysia rejected criticism on Tuesday from US government officials that it has not been sharing as much information as it could with foreign governments about the disappearance of passenger jet more than a week ago.
Two US security officials said on Monday that the Malaysia had still not invited the Federal Bureau of Investigation (FBI) to send a team to Kuala Lumpur to assist in the probe into the disappearance of Malaysian Airlines Flight MH370.
"I have been working with them," Malaysia's Defence and Acting Transport Minister Hishammuddin Hussein told Reuters on Tuesday, when asked if the country had requested FBI help.
"It's up for the FBI to tell us if they need more experts to help because it's not for us to know what they have."
While Malaysia's police special branch has been providing some information to US law enforcement and intelligence agencies, US sources said, the FBI is only collaborating with Malaysian authorities via an agent, known as a "legal attache", assigned to the American Embassy in Kuala Lumpur.
The FBI and other US law enforcement agencies, such as elements of the Department of Homeland Security, indicated some time ago they were eager to send teams to Kuala Lumpur, but will not do so unless formally invited.
Asked if any FBI staff had travelled from outside Malaysia, Hishammuddin said: "Once I have spoken to one FBI representative, I assume the whole FBI would be behind it."
An unprecedented search for the missing flight now stretches across Asia, from the Caspian Sea to the southern Indian Ocean.
Investigators are convinced that someone with deep knowledge of the Boeing 777-200ER and commercial navigation diverted the jet, carrying 227 passengers and 12 crew, perhaps thousands of miles off course.
The FBI has extensive experience in investigating plane crashes, including the crashes off the US east coast of TWA 800 and Egyptair 990.
In the case of Egyptair 990, the FBI helped air safety investigators establish that the crash was caused by a suicidal co-pilot.
In the TWA 800 case, the FBI conducted a lengthy investigation that eventually helped the National Transportation Safety Board discredit theories that the plane was hit by a missile, but instead was brought down by a freak accident involving overheated fuel.