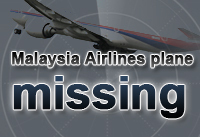 Passengers' and their nationalities:
Chinese 154 
Malaysia 38
India 5
Indonesia 7
Australia 6
France 4
USA 3 
New Zealand 2
Ukraine 2
Canada 2
Russian 1
Italy 1
Netherlands 1
Austrian 1
KUALA LUMPUR - Investigators found that several recent files in the flight simulator of the pilot of the missing plane had been deleted, Malaysian Home Minister Ahmad Zahid Hamidi said Wednesday in Putrajaya, local media reported.
Zahid said computer forensics experts were now busy working on retrieving the deleted files.
He said that the police were not accusing Zaharie Ahmad Shah, the lead pilot of the missing plane, of any wrong-doing or giving pressure on any of his family members, while they were conducting a thorough and intensive investigation.
"The police had invited several Boeing 777 operators and also those who were experts in flight simulators, as well as Information Technology (IT) professionals to assist in the probe," he told a press conference.
Zahid also said that a meeting would be organized by the home ministry with related government agencies to discuss measures to improve security protocols in Kuala Lumpur International Airport ( KLIA) and other entry points.