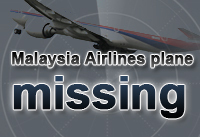 Passengers' and their nationalities:
Chinese 154 
Malaysia 38
India 5
Indonesia 7
Australia 6
France 4
USA 3 
New Zealand 2
Ukraine 2
Canada 2
Russian 1
Italy 1
Netherlands 1
Austrian 1
COLOMBO - Sri Lanka has allowed search parties looking for the vanished Malaysian Airline flight to use Sri Lankan airspace as the hunt expands into the Indian Ocean, an official said here on Tuesday.
Sri Lanka's government had been approached to provide assistance by the Malaysian embassy in Colombo, Sri Lanka External Affairs Public Communications Director Satya Rodrigo told Xinhua.
He confirmed that the Malaysian authorities had requested use of Sri Lanka's airspace for flights from the United States, New Zealand, Australia and Malaysia.
"The request came a few days ago, in fact around March 13 and will expire on March 19. Since this is an extraordinary situation permission was promptly given," he said.
The External Affairs Ministry is also reported to have asked the Sri Lankan embassy in Kuala Lumpur to ask the Malaysian government what additional assistance it could provide, local media reported on Tuesday.
As search operations entered the eleventh day and Malaysian officials are following the possible flight path of MH370 that points to two new corridors, the demand for satellite information, radar playback, aircraft and vessels have become greater, Malaysia 's Transportation Minister Hishamuddin Hussein told reporters.
The new search areas announced on Saturday encompass a northern corridor stretching approximately from the border of Kazakhstan and Turkmenistan to northern Thailand as well as a second southern one estimated from Indonesia to the southern Indian Ocean that also includes Sri Lanka.