Hong Kong-based company reportedly controls biggest gold deposit, high demand for apartments near good schools, pagoda stands on its last leg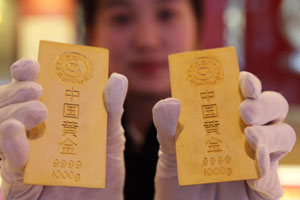 Hong Kong company 'controls' biggest gold deposit in Xinjiang
Xinjiang Bureau of Geology and Mineral Resources said on Tuesday that a super-large-scale gold deposit has been discovered in Wuqia county, Xinjiang Uygur autonomous region, and the deposit contains gold worth more than 40 billion yuan ($6.41 billion), making it the biggest gold mine discovered yet in Xinjiang, according to news.163.com on Wednesday.
An insider from the company, which owns the biggest gold deposit, said they haven't had any cooperation with any gold company, but a Hong Kong company has taken control of the biggest gold deposit since its cooperation with Xinjiang Bureau of Geology and Mineral Resources on gold exploration in 2012.

Related:
Large gold deposit found in Fujian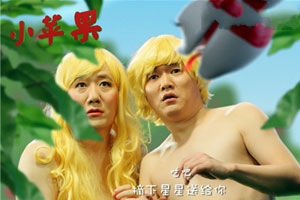 Promotion video becomes Internet hit
A promotion video made by Xi'an Conscription Office, based on a popular yet controversial Chinese song "Little Apple", has become a hit on the internet.
The song is well-loved by some people for its easy melody and lyrics, which the officials think plays well with the promotion video. The video aims to attract more well-educated young people to join the army, according to the Beijing News on Wednesday.
The officials said they welcome such kind of innovative promotion.
Related: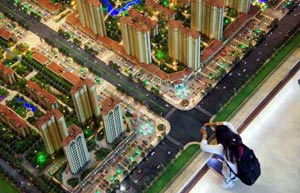 Apartments near good schools command high prices
Map revealing the price of apartments near school districts has been released by China Economic Weekly, which shows that housing near school districts is still popular amid the slowdown in the housing market, cnr.cn said on Tuesday.
A 10-square-meter residence in Wenchang Hutong near Xidan is priced at 3.4 million yuan ($550,000) as the Beijing No 2 Experimental Primary School, one of the elite primary schools in Beijing, is in its vicinity. Average housing prices nearby are about 150,000 yuan ($24,000) per square meter.
Related:
To change, China has hard nuts to crack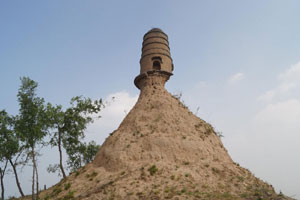 'Strong-willed pagoda' on its last leg
Standing on a mound of earth in Jiancun, a village in Qixian County, North China's Shanxi Province, Wenfeng Pagoda -- as local people call it -- has been dubbed the "strong-willed pagoda".
The five-story brick pagoda still manages to stand in the wilderness upright although most of its pillars are ruined. It is close to collapsing.
A netizen published pictures of the structure last week on Weibo, China's Twitter. He wants the local government to protect the fragile cultural relic.
Du Yagang, deputy head of the county's cultural relics protection bureau, said the county government plans to build a fence around the pagoda to prevent further damage. They have also turned to experts to see how it can be maintained.
Related:
Myanmar pagoda replica given to China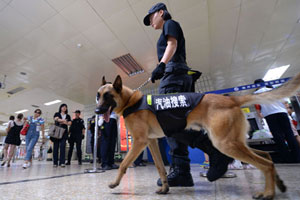 Security violators maybe detained
Passengers who refuse to pass through security checks at subways will face serious penalties, including administrative detention, according to the capital's police.
The police said they will detain passengers who create public disorder by refusing to pass through security checks. Detainees could be held for five to 10 days, Beijing News reported on Tuesday.
Related:
Beijing subway security checks intensify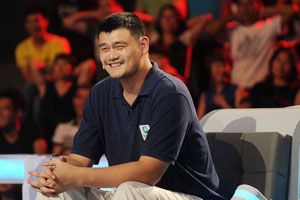 Yao Ming appointed as Youth Olympics envoy
Retired basketball superstar Yao Ming has been appointed image ambassador for the second Youth Olympic Games, being staged in Nanjing from Aug 16 to 28, the International Olympic Committee said on Monday.
Yao will communicate with the young athletes, watch events and share his experience of international basketball. Three other athletes, from South Africa, the United States and Russia, have also been appointed image ambassadors.
Related:
Yao Ming helps teens and cultivates new players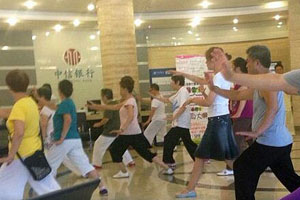 Bank allows elderly to practice tai chi inside
In an online photo that recently went viral, about 20 senior citizens are shown practicing tai chi-a form of traditional Chinese martial arts-in a bank in Chengdu.
A bank manager said the people were invited by the bank to practice there because it was too hot outside and the bank's business was not affected, the Chengdu Business News reported.
Related:
Foreigners train with tai chi masters in Shandong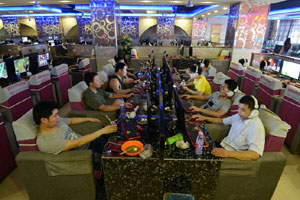 'Too busy' for laundry, gamer steals clothes
A man who claimed to be addicted to online games was sentenced to 8 months in prison for stealing other people's clothes in Guangzhou.
The man told the court that he stole a jacket and a pair of trousers because he was too busy playing games and had no time to do the laundry, New Express reported.
Related:
Chinese teens battling Internet addiction