A mall designates a place for square dancers, a young millionaire opts to do an internship - and a homemade gun is lethal.

China hit by 500-plus non-indigenous species
China has become one of the countries hardest hit by invasive species of animal and plant life, threatening its biodiversity and agricultural production, authorities said on Friday.

A total of 529 non-indigenous species have invaded the country since the 1980s, said Wang Yanliang, a Ministry of Agriculture offi cial, at a meeting about invasive species in Chongqing.

A square for square dancers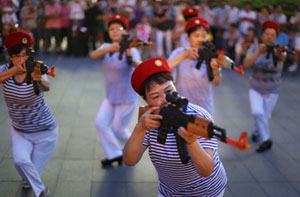 The management of Joy City shopping mall in Beijing has designated a space near the mall's east entrance as a location for square dancing after managers could not persuade dancers to leave, Beijing News reported.

A group of local residents had gathered near the mall on Friday, and Joy City security personnel had used a megaphone to try and disperse them – but did not manage to do so.
Li Yibing, deputy head of the mall's security department, said that it is forbidden to congregate on the pavement, as it "disturbs both pedestrians and the residents living nearby," and he said they would organize a space for them to the east side of the mall.

Related:

Eight stories you want to know about square dance



Homemade gun is lethal
Police in Zunyi city, Hubei province, on July 22 seized a crude – but dangerous - homemade gun made of metal scraps, Youth.cn reported.
Police in Honghuagang district confiscated the weapon from a man who was involved in an altercation. They tested the gun – and found it to be lethal.
The man – who makes his living collecting scrap - said he made it from pieces of metal he found.


Millionaire college graduate opts for internship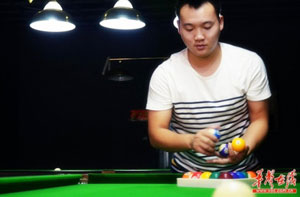 A college graduate transferred his one million in assets to his parents and applied to be a trainee at an internet company, voc.com.cn reported.

Zhu Zili, 23, was born to poor parents, but he spent three years in higher education, and became wealthy.
He started earning relatively significant sums after he opened a restaurant. He later opened a retail store and a billiards hall, and he is also one of the founders of the Hunan Qingteng Media Co.
On July 2, Zhu spoke with the CEO of PalmallTech at the launch of "Wireless Changsha" - the country's first cloud media cell-phone platform- and asked him if he could learn more about the industry. The CEO offered him an internship.



Man cuts off finger to get car back
A man in the city of Chengdu, Sichuan province, shocked officers by chopping off his little finger in an office at the Dazhou Transportation Administration – with the aim of getting his impounded car back, Chengdu Business Daily reported.
The man had given a ride to a pregnant woman and her husband and asked for ten yuan in payment. But he was detained for illegal activities concerning regulations about taxi services. Zhou refused to sign a document confirming his guilt – as he insisted that he was just helping the woman.
Zhou also refused to have his finger reattached, left the hospital where he was being treated, and returned to the Transportation Administration – where he told officers that he would cut off his other fingers and maybe also his arms if they did not give his car back.


Nanjing to increase subway security checks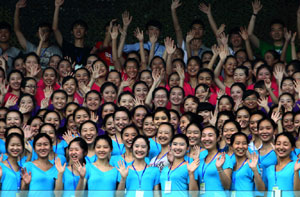 Nanjing, the capital of Jiangsu province, will step up security checks at subway stations before it hosts the second Youth Olympic Games from Aug 16 to 28. Local police said every bag of passengers would be checked from Aug 11 through 30.
They also introduced two machines to block cellphone signals to prevent remote-controlled explosions. Police suggested commuters allow an extra 15 minutes at rush hours for the security checks.

Related:
Volunteers train for summer Youth Olympics

Professor uses scrap metal for 'transformers'
An associate professor in Changsha has made "transformers" similar to those in the popular movie series, Changsha Evening News reported on Friday.

Yang Gang, an associate professor and dean of the animation department at Hunan International Economics University, started to make transformers in June 2012 after noticing waste metal pieces in a scrap yard.