University offers admission to students who tackled knife-wielding attacker, sex-determination test becomes popular, graduation souvenirs new trend in universities.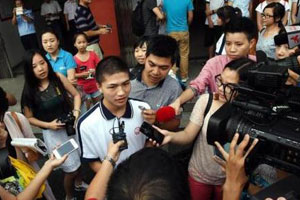 University of Macau offers admission to Good Samaritans
Two students who saved lives of strangers from a knife-wielding attacker have been offered admission by the University of Macau, according to xinhuanet.com on Friday.
Liu Yanbing and Yi Zhengyong, who took the college entrance examination earlier this month, have already received the offer of admission by the university, which took the unusual step after weighing their interests and academic level.
The university has also promised them grant, including tuition fees and living expenses, to the tune of 3,000 MOP (Macau Pataca) per month for 10 months annually, and 3,000 MOP for books.
But it looks like the gesture will go in vain as Liu's father has said he appreciates the offer from the university but does not want his son to go to Macau to study, said Jiangxi Daily.
Related:
'Good Samaritan' favored by Tsinghua University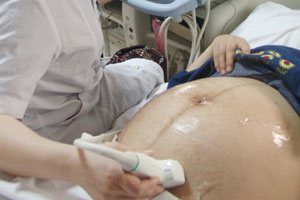 Cup that can determine fetus' gender
Tests that can determine the sex of the baby never seems to go out of fashion, especially now when the one-child policy is being eased.
A test cup that can reportedly detect the gender of the fetus has become popular among pregnant women, according to The Beijing News on Friday. Although the test is easy to carry out as it involves only urine testing, but a doctor at Beijing Chaoyang Hospital said this kind of test cannot necessarily indicate the gender of the baby although it could provide irrelevant data.
Related:
Human nose can sniff out gender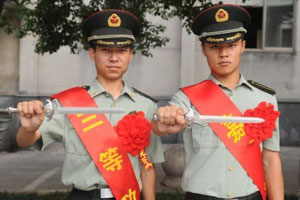 University gifts swords to graduates
Graduation souvenirs are becoming an essential and new trend among universities. PLA Nanjing Political Institute held a graduation ceremony on Thursday and presented graduates swords and ID tags, according to PLA Daily on Friday.
The walking swords are hand-made by spring steels, set in a wood box. The tags are water and fire proof and engraved with students' personal information.
Related:
Graduation season special: World leaders wear gowns to collect certificates

Shenzhen official 'owns' property worth 300m yuan
An online post claiming that a Shenzhen official in Longhua district, Zhang jiandong, whose wife and children have acquired permanent residency in Hong Kong, owns real estate assets worth 300 million yuan ($48 million) and collects more than 500,000 yuan a month on rent, according to Beijing Times on Friday.
An official in Longhua district said that Zhang was elected after elections in the village and that he is not a civil servant.
Meanwhile, Zhang has dismissed these charges, claiming that people who hold a grudge against him due to his work are making these accusations.
Related:
Corruption, dereliction of duty behind official image crisis