Snow makes brief spring comeback in Harbin, tourist bicycle route opens between China and DPRK and Guilin man's heart donation gives gift of life to 12-year-old boy.
Rare snowfall in May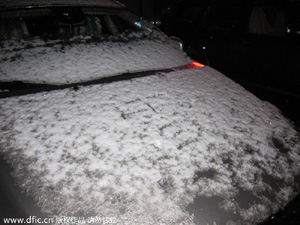 A cold snap hit Northeast China's capital city Harbin on Friday, bringing snow to the city - a rare phenomenon in May. The snow was caused by a sharp drop in temperature, from nearly 30 degrees Celsius a couple of days earlier to zero.

Children lost in crowds
Nearly 100 children were separated from parents by crowds of visitors during visits to Chengdu Zoo on Thursday and Friday, Huaxi Metropolis News reported. In the first two days of the May Day holiday, the zoo administration dealt with more than 90 cases of children being lost and helping them return to their families.

Bike tour route opens at border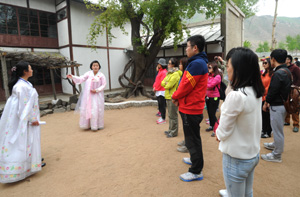 The first tourist bicycle route across the border between China and the Democratic People's Republic of Korea has opened in Tumen, Jilin province, Xinhua reported. Tourists can register at the border checkpoint at 8 am to ride along the road, which leads to Namyang in the DPRK, where they can visit a train station and a market.

Ancient sites discovered
Two ancient ruins that can be traced to the Neolithic Age have been discovered in Baoding, Hebei province, Xinhua reported. The sites will aid further understanding of the Warring States Period (475-221 BC) and the Western Han Dynasty (206 BC-AD 24).

Holiday celebration with the 'emperor'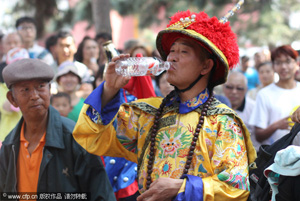 Nearly 100 actors in Manchu costumes put on a show for residents during Labor Day celebrations in Beiling Park, Shenyang, Liaoning province. The show on Thursday featured an "emperor" and his "followers" setting up an altar for ancestors and offering a sacrifice.

Life-saving dash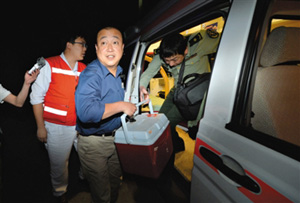 Ye Jin, 21, from Guilin, South China's Guangxi Zhuang autonomous region, died from a brain tumor on Thursday and donated his heart to a 12-year-old boy, Xiao Bao, who suffered dilated cardiomyopathy, a condition causing the heart to weaken and enlarge, becoming unable to pump blood efficiently, Beijing News reported.
Xiao suffered severe heart failure late on May 1 and Ye's heart was removed after a farewell ceremony and carried by China Southern Airlines from Guilin to the Beijing Anzhen Hospital, a distance of more than 1,900 km, within the maximum six-hour time frame, the following day. Xiao is in intensive care following his life-saving surgery.

Screen icon-turned rock star Maggie Cheung lets down fans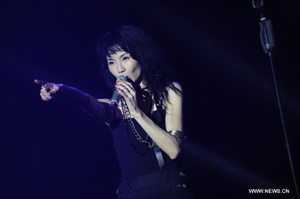 Hong Kong film star Maggie Cheung disappointed avid fans by singing out-of-tune at the 2014 Strawberry Music Festival in Shanghai on May Day. The film legend performed several classic songs in her low-pitched, husky voice but many fans left early, unable to stand her performance, seen by many as comeback bid. The 50-year-old is said to have been dating a rock musician 15 years younger than herself.

Three new IPOs gain approval
The securities watchdog approved applications for the first initial public offerings in 18 months on Wednesday. The first three to be approved are Kuaijishan Shaoxing Rice Wine, Guangdong Ellington Electronics Technology and Nanjing Kangni Mechanical and Electrical. The China Securities Regulatory Commission said it will review another three IPO applications on May 7.