Stripping students get their message across, illegal poppy plants destroyed by authorities and vice police chief investigated over sex workers.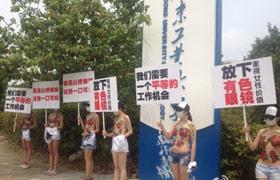 Students strip in protest
Six female Guangdong University of Technology students went topless in a campaign seeking workplace gender equality at the university's front gate on Monday, Guangzhou Daily reported via its official Weibo account. They carried slogans proclaiming "we need equal job opportunities" and "appreciate women's values". Some web users said the students were using "action art" while others questioned whether they had crossed the line of decency.
Related:
Students protest school's military-style management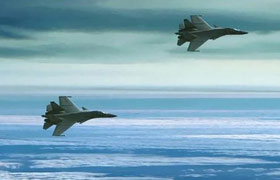 J-15 fighter video dazzles web users
China released its first video of Shenyang J-15 fighters training on aircraft carrier Liaoning, Which was praised on Monday by web users as visually appealing and showing China's military development.
The six-minute video shows training sessions of two J-15 fighters, from pre-flight preparations to landing at various angles. The video contains close-ups of detailed operations such as how the fighter hooks on to arresting gear to slow down, loading of ammunition and flipping over in flight.
Related:
Carrier visit underscores transparency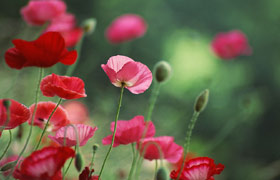 Poppy plants torn up
Police in Zhengzhou on Monday destroyed poppy plants found beside a residential compound, Zhengzhou Evening News reported. Police found the flowers during a patrol on Monday and more than 80 stems were spotted, some of which had already produced seeds. The plants are illegal in China as opium is derived from them.
Related:
Woman detained for planting poppies
Vice police chief probed over prostitution
Eight officials from the Zhengzhou Public Security Bureau, including vice chief, Zhou Tingxin, have been investigated for involvement in a luxury club prostitution case, ha.xinhuanet.com reported on Tuesday. Royal No. 1 nightclub in Zhengzhou was shut down for organizing prostitution in Nov 2013 with 133 people suspected of being involved transferred to the procuratorate body which is investigating.
The nightclub's daily turnover was reported to be no less than 500,000 yuan ($80,300) with 500 prostitutes allegedly working there.
Related:
8 policemen probed for allegedly harboring prostitution

Fishbone mistaken for tumor by doctors
A woman who works in Guangzhou went to several hospitals to find the source of a long-time pain in her abdomen. Each one gave the same diagnosis that she had a tumor on her liver, Chongqing Morning Post reported. She eventually went back to her hometown, Wanzhou, for treatment and learned that the so-called tumor was a small fishbone, which had been stabbing her in the liver for more than a year.
Related:
Chicken bone leads to costly surgery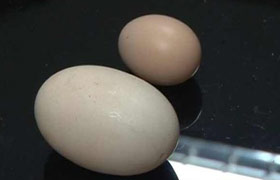 Hen lays 185-gram egg, beating record
A hen in Xiangtan of Hunan province laid an egg on April 15 that weighed a staggering 185 grams, three to four times larger than an average egg, Xiaoxiang Morning Post reported on Monday. It took the hen two days to lay the egg, according to its owner, a farmer surnamed Wu. The previous record for the world's largest hen's egg was 148 grams and was set in 2004, according to Guinness World Records.
Related:
15-pound baby boy born in S China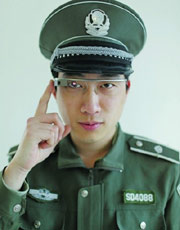 Chengguan buys Google glasses to record work
An urban patrol official in Changzhou, Jiangsu province, spent several times his monthly salary to buy a pair of Google glasses, which cost $1,500, to record his experiences during work, Yangtze Evening News reported on Monday. Jiang Yifan, the urban patrol officer, or chengguan, posted a photo of himself wearing the glasses on his micro blog on Sunday morning. He wrote that the recordings could help him avoid misunderstandings with the public.
Related:
Sellers making clear profits on Google Glass

Court sentences ex-teacher for rapes
A former teacher at a primary school in Nanyang was sentenced to death with a two-year reprieve for sexually assaulting his students. A court found on Monday that Yang Shifu, who taught at a school in Tongbai county, was guilty of raping two students and molesting several other female students multiple times since 2012.
Related:
Gymnastics school heads accused of sexual assault