Southernmost tourist city Sanya says no to casinos, and Shanghai airport has 4D movies to entertain passengers, and an old panda is ready to get back to the wild.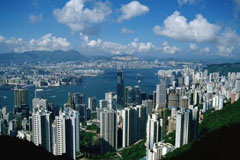 Regulation of real estate industry continues
"The government work report said it will increase the supply of small and medium size housing and shared ownership housing, and curb speculative investment to solve the problems of middle and low-income groups," Vice Minister of Ministry of Housing and Urban-Rural Development Qiu Baoxing said on Thursday, the Lanzhou Evening News reported.
"Housing differentiation will be more serious in the future but there will be no major property crisis in the next 10 years because we have three big tasks to accomplish: the settlement of about 100 million migrant workers, the re-construction of the shanty towns nearly 100 million people live in and the urbanization of another 100 million in the Midwest region," Qiu said.
Related:
Slump hits Beijing real estate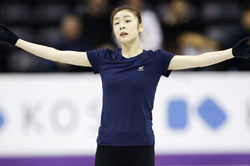 Figure skater Kim Yu-na's romance disclosed
South Korean news website Dispatch revealed on Thursday star figure skater Kim Yu-na's 15-month romance with Kim Won Joong.
Kim Won Joong is an ice hockey player and attended the same college as Kim Yu-na. With their different training schedules it is difficult to spend time together, but with their common skating interest as well as training for the Winter Olympics, the two are said to have developed a bond. Kim Won Joong is reported to have given a lot of support to Kim Yu-na in her training for the Sochi Games. (SINA Sports)
Related:
Kim not perfect but good enough at worlds

4D movie hall opens in Shanghai airport
The first 4D movie experience hall officially opened in Shanghai Pudong International Airport on Thursday, Xinmin.cn reported.
The hall has eight seats and shows micro-movies or movies with special effects. In addition to 3D stereo effects, it increases sensations such as vibration, spray and wind blowing. The hall opens from 9 am to 9:30 pm with tickets priced at 30 yuan (approx $5) for each 10-minute show.
Related:
Free 3D painting show for Lantern Festival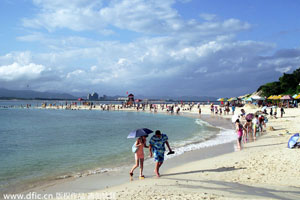 No casinos allowed in Sanya
The Open Day of the Hainan delegation was held in the Great Hall of the People on Thursday when representatives answered many sensitive questions, Xinhuanet.com reported.
Hainan governor Jiang Dingzhi said tourism has not been affected by provisions which have reduced public consumption. "Tourists during the Spring Festival increased by 38.3 percent and revenue increased by 36.8 percent year-on-year," he said.
Sanya mayor Wang Yong said the city will not allow any casinos and will crack down on those who participate in gambling in the wake of revelations that some hotels in the city had secret casinos.
Related:
Sanya orders ban on naked beachgoers

Police killed beggar's dog 'for public safety'
Langzhong county police said on Thursday they killed the dog of a beggar out of concern for public safety. Bloody pictures were posted online showing two officers clubbing a dog to death on the street, sparking an outcry from netizens. The police said the dog posed a threat to the safety of students in a nearby primary school, and added they were unable to get the dog owner's cooperation. Police later sent the beggar to a government-run shelter and apologized for the way they dealt with the potential threat.

Suspect accused of stealing coins in temple
A man from Nanjing was detained on suspicion of stealing coins left by well-wishers at Dinglin Temple, Yangtze Evening News reported on Thursday. The 32-year-old man, surnamed Zhang, tried on Tuesday to use two magnets tied to a rope to remove the coins when monks spotted him and called the police. Zhang had allegedly removed 324 yuan ($53) in coins. 
Related:
Monkey trafficking suspects located by police

Killer surrenders after officers send texts
A man who reportedly killed his girlfriend and then hid in the mountains for four days turned himself in to police after he received five text messages from the officers, Qianjiang Evening News reported on Thursday. The 46-year-old farmer, surnamed Zheng, allegedly killed his girlfriend on Jan 25 in Longyou after a quarrel. "You must regret what you did, and only by giving yourself up can you have a chance to get leniency. This is also the wish of your 90-year-old mother," one message said.
Related:

Father outperforms daughter in same class
Su Yibin, 44, and his daughter are classmates at a university in Wuhan, but he scored much higher marks in many courses, Wuhan Evening News reported on Thursday. The father used to be a chef, and they were both enrolled last September. In the final exams of the first semester, Su got full scores in advanced mathematics, the first in a class of 96 students.
Related:
Father questioned in death of newborn baby

Old panda ready to answer call of the wild
Giant panda Xue Xue, aged 27, is to be given training to help her adapt to life in the wild ahead of her eventual release into a protected area in Foping. She gave birth to twins in 2005 when she was 18, a vulnerable age for pandas to give birth. In captivity, pandas have a life expectancy of around 30 years. There are about 120 pandas living in the Foping protected area.
Related:
18-year-old panda conceives triplets

Ox tries to escape on way to slaughterhouse
An ox jumped off a truck on its way to a slaughterhouse in Zhangzhou on Wednesday afternoon, news portal mnw.cn reported. The 500-kg ox was bought by a farmer named Chen for 30,000 yuan ($4,900). Chen and nine other people, including six firefighters, worked for one and a half hours to get the ox back on the truck.