'Dongguan' becomes a hot word for fraud after sex industry crackdown, Wuhan's reganmian noodles seek cultural status, and this year, many officials actually had to buy their own fruits and calendars.
Top student falls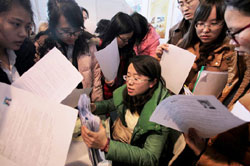 A man who received the highest scores on the national college entrance examination for students of science in Liangshan Yi autonomous prefecture, Sichuan province, has been living as a vagrant and Internet addict for most of the past four years.
The man, surnamed Liu, 25, entered the prestigious University of Science and Technology of China in Anhui province in 2006, with an impressive high score of 650.
Liu became addicted to computer games and would spend long hours in Internet cafes instead of looking for jobs after graduating four years ago. He had been holed up in an Internet cafe in Chengdu, the capital of Sichuan, for three days when his father found him on Tuesday.
Related:
Students go under the knife in search for better jobs

"Dongguan" becomes hot word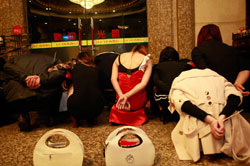 Dongguan, a city in Guangdong province, has become a hot word for fraud online and off-line since its sex industry was exposed by China Central Television on Sunday.
Many computer viruses and malicious software appeared on the Internet with names like "videos of lap dancing in Dongguan," and many people received mobile phone messages from strange phone numbers that asked for money as the message sender was caught in Dongguan.
Related:
Guangdong set to slam underground prostitution industry
Lovers snared in sex trade crackdown

Photos before help
A man in Taizhou, Jiangsu province, saw a woman knocked down by an electric bicycle on the road, and helped her up on Monday.
But before that, he took a photo of the scene first, in case he was mistaken as the man who knocked down the woman.
Related:
Debate over accident shows 'crisis of trust', experts say

Loss of lunar rover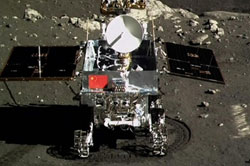 China's first lunar rover, Yutu, could not be restored to full function on Monday as expected, and netizens mourned it on Weibo, China's Twitter-like service.
Yutu experienced mechanical problems on Jan 25 and has been unable to function since then.
Related:
Glitches hit China's lunar rover

Tiger gets a walk
A man was seen walking a little tiger inside a park in Jiaozuo, Henan province, on Tuesday.
The man, who was an animal keeper at the local zoo, said he walked the tiger because the half-year-old cub has been suffering from calcium deficiency since it was born.
To make it stronger, the man has been taking the tiger on daily walks in the park for about three months.

Noodles seek cultural status
The hot and dry noodles known as "reganmian" in Wuhan, capital of Hubei province, has applied to be included as one of the state-level intangible cultural heritages.
The noodles, with a spicy flavor, have a long history, and reganmian restaurants can be found throughout the city as local people enjoy it for meals or as snacks.
Related:
Chongqing seeks State nod to protect hotpot heritage

Officials spend Spring Festival frugally
Many officials said they spent a frugal Spring Festival because fewer people visited them or gave them presents during this Spring Festival holiday, after the eight-point code to cut bureaucracy and maintain close ties with the people was released in December 2012.
Some officials said they had to buy their own fruits and calendars this year, items they used to receive as gifts in the past.
Related:
Civil servants allocated to clean streets

Bank escort workers go on strike over pay
About 100 workers at a major Guangzhou-based bank escort company went on strike on Tuesday, affecting the cash business of many banks. The workers stood in front of the company's gate and crowded nearby roads in the morning, appealing for higher salaries and improvements in the company's management of firearms.