Police in Lufeng busted for helping drug dealers, four family members were massacred and burned in Jiangsu, and a college student is a hit on the Internet for a love poem she wrote using math codes, it's all trending now across China.
Security staff end strike in Shaanxi
Approximately 100 security officers who work as guards for cash trucks went on strike on Friday in Yulin city of Northwest China's Shaanxi province. The work stoppage caused dozens of banks to suspend businesses for an hour. The workers, who claimed they were dissatisfied with their salaries, returned to work after their employer promised to raise their pay, the China Business News reported.
Related: Flight versus fight

Lufeng police involved with drug deals
Some policemen in Lufeng city in South China's Guangdong province have been punished for helping criminals deal drugs, in some cases using police cars to assist them, local police said.
Qiu Wei, head of the Narcotics Control Bureau of Guangdong Provincial Public Security, said some officers were actively protecting drug dealers, and added that 21 officials, including three police chiefs, have been punished, the Southern Metropolis Daily reported.
Related: Guangdong police raid notorious drug village

Equation for love
A female college student has gained popularity on the Internet for a love poem she wrote using mathematics codes.
The special love poem, "INPUT (-∞,+∞), IF(-∞THEN+∞], ELSE+∞)" means "If you never give up, I will definitely stay with you", said Wu Huajie, a freshman from Wuhan Yangtze Business University.
The poem was written to her boyfriend , the Chutian Gold Daily reported.
Related: Couples rush to marry on date of 'lifetime love'

Dangerous attack on flight
An unruly passenger attacked the pilot's cabin of a plane when it was flying from Beijing to Yinchuan city of the Ningxia Hui autonomous region on Saturday afternoon.
The plane landed safely at its destination after the suspect was detained by the security staff on the flight, a publicity official surnamed Cai from Hainan Airlines told the China News Service.
Related: Man given 5 months detention for bomb hoax

Violent veterans punished
Eight veteran firefighters were taken into police custody on Friday after they were accused of attacking five newly hired firefighters in Inner Mongolia autonomous region.
An online video showed the suspects attacking the new recruits by punching, kicking and slapping them for nearly 16 minutes. The video was circulated on the Internet, drawing public anger.
Apart from the alleged attackers, 16 other people involved in the incident were also punished, the Xinhua News Agency reported.
Related: Salute to veterans

Family massacred in Jiangsu
In a bloody case in Yangzhou of East China's Jiangsu province, a 52-year-old man was alleged to have killed four members of his cousin's family and then set fire to the victims as well as himself.
Zhong Shenghuai, the suspect, committed suicide after reportedly killing his cousin as well his cousin's wife, father-in-law and grandson on Thursday evening, the police told the China News Service.
The case is still under investigation and the motive of the suspect remained unclear, said the report.
Related: 5-year jail term for 'homicidal thief' girlfriend

Anti-corruption website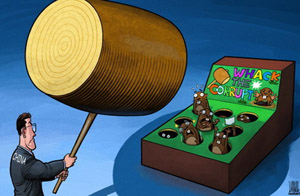 The website of China's top anti-graft agency solicited public opinions about whistle-blowing activities on Saturday.
Many people suggested that the agency's website should allow netizens to comment on its articles, according to the website of the Central Commission for Discipline Inspection of the Communist Party of China.
Related: China probes 36,907 officials for suspected corruption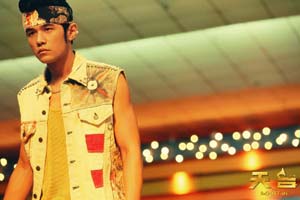 'Brain' makes waves
The Brain, a TV program produced by Jiangsu Satellite TV, has gained popularity among audiences due to its recent feature on magic and science, the City Express reported.
Jay Chou, a famous singer, appeared in the program that was broadcasted on Friday night, said the report.
Related: Chinese TV channels asked to air more domestic documentaries