Almost half of Chinese people work overtime without extra pay, train riders are tired of budget travelers who crowd the aisles, and are you willing to spend half of your monthly budget on dating?
No OT pay
Some 45 percent of Chinese people in a recent survey said they work overtime without extra pay or comp time, Beijing Morning Post reported.
The survey also showed that a majority of the workforce received a secondary education, and nearly 25 percent know some English.
Related:
Survey: Many bosses don't pay holiday overtime

Standing on trains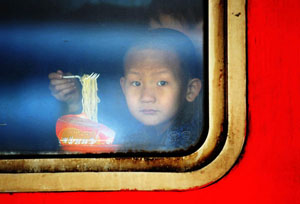 People are questioning the practice of selling standing-only tickets on trains, because passengers who buy standing-only tickets - which are cheaper than seats - pack the aisles of trains every year during the Spring Festival travel rush, making for abominable travel conditions.
The next Spring Festival falls on Jan 31; travel season will begin on Jan 16.
Related:
Spring Festival holiday sees 440m trips

Three Gorges-quake link?
Experts responded to people's questions about the Three Gorges Project, the world's largest water conservancy project, causing large earthquakes in China in recent years.
Reservoirs could cause earthquakes in nearby areas, but the 2008 earthquake in Wenchuan was in a different region from the Three Gorges Project, they said.
Related:
Three Gorges Dam water flow increase helps spawning

Matchmaking fair
More than 3,000 single people from central departments participated in a matchmaking fair on Sunday in Beijing, China News reported. Most participants were younger than 30, and the youngest was 19.
The number of women exceeded men, just as it did in previous years.
Related:
Matchmaking events ahead of Singles' Day

Less pay for coach
Chinese men's national football team started recruiting a coach for the 2018 World Cup, and the Football Association plans to reduce the pay but did not release details about the offer.
Former national team coach Jose Antonio Camacho was offered 4 million euro after taxes, and the investor refused to pay the personal income tax for his three-year service, which was about 80 million yuan ($13.2 million).
Related:
Football fans cheer for Guangzhou Evergrandeu

Dating is expensive
A media survey shows that having a romantic relationship is expensive for college young men: Some polled students spend half of their monthly living expenses on dating-related costs such as dinner, shopping and movies, mostly borne by male students.
Monthly living expenses of respondents in the survey ranged from 900 yuan ($148) to 2,500 yuan.
Related:
Newspaper sorry for false dating story

Baby vaccines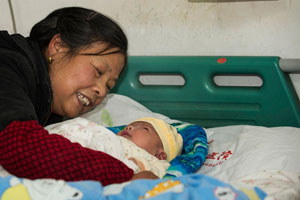 Two infants in Hunan and one in Zhongshan, Guangdong province, died after getting injections of hepatitis B vaccine. The vaccines were produced by the same company, Biokangtai in Shenzhen, Guangdong province.
The Center for Disease Control and Prevention in Guangdong province recalled the batch of vaccines for investigation. CDC said the vaccine did not cause the death of the baby in Zhongshan, while the results of the Hunan case is not known yet.
Related:
Vaccines suspended after deaths

Building fire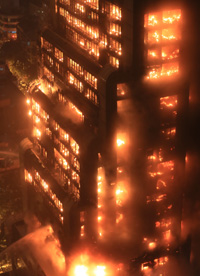 An unfinished building in Guangzhou, capital city of Guangdong province, caught fire on Sunday night. Fire trucks were on the scene within minutes and police blocked traffic on nearby roads.
The fire was put out. It was still unclear whether there were any people in the building.
Related: