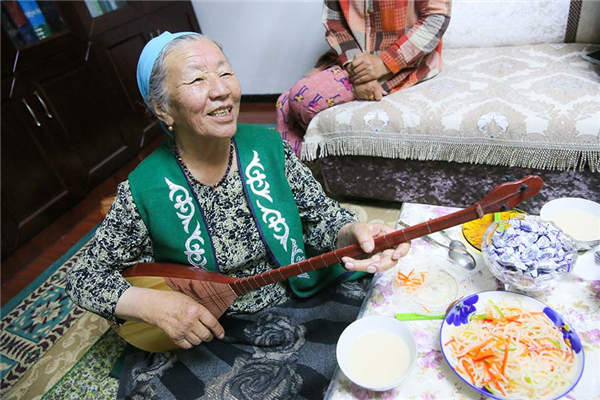 Jamalhan·Harbat performs Aken songs in her home in Emin county, Tacheng prefecture, Xinjiang Uygur autonomous region, May 24, 2016. [Photo by Gaoyuan Lingzi/provided to chinadaily.com.cn]
Aken Aites, or Aken songs, is a folk art form popular among the Kazak ethnic group, in which the performer sings while playing a stringed instrument. The performer spontaneously chants with the music, and the lyrics are always beautiful or humorous, expressing the lifestyle and attitudes of the Kazak. It also shows the talent and eloquence of performing artists.
The art form was listed as a national-level intangible cultural heritage in 2006, and now is aiming for the world heritage list.
Jamalhan·Harbat, a Kazak woman, is a representative inheritor and the only female Kazak inheritor of the Aken Aites art in Xinjiang Uygur autonomous region.
Harbat, 76, was born into an artistic family; her father, mother, grandfather, uncle and brother were all musicians. Influenced by her family, Harbat began to learn Aken Songs in childhood and she performed at parties in her village and nearby when she was as young as 7 years old.
In 1977, she took part in a Aken Aites contest, and made it all the way through the championship in Xinjiang, which led to her rise to fame.
In 2010, Harbat was honored with the "Lifetime Achievement Award of Aken Aites" in Xinjiang. She's also performed abroad many times. In 1994, during the 11th Kartal International Art Festival in Istanbul, Turkey, Harbat won first prize due to her excellent performance of Arken songs.
Harbat is dedicated to the inheritance of Aken Songs and has 127 well-educated disciples and numerous students.
While she is an older musician, she is still invited to perform during some major events and many people consult her on the art of Arken Aites.