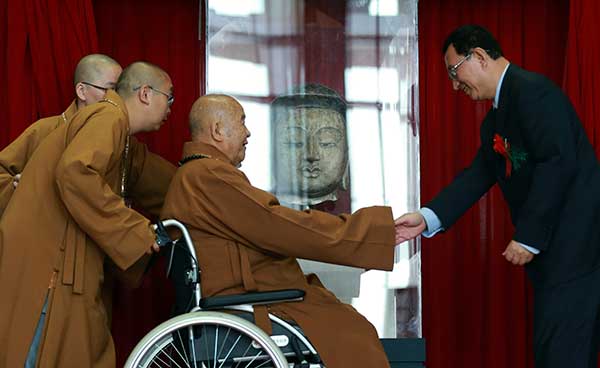 Abbot Hsing Yun at the handover ceremony of a 1,500-year-old Buddha head at the National Museum of China.[Photo by Zou Hong/China Daily]
Abbot Hsing Yun's recent visit to Beijing is probably among his most significant cross-Straits trips.
On March 1, the abbot, 89, who established the Fo Guang Shan Temple in Kaohsiung city in 1967, escorted a 1,500-year-old Buddha head to the National Museum of China in Beijing.
The Buddha was carved following a royal family edict during the Northern Qi Dynasty (AD 550-577), but its head was stolen from the Youju Temple in Lingshou county, Hebei province, in 1996.
It was bought by a businessman from Taiwan who wanted his identity kept secret. He donated the head to Fo Guang Shan in 2014. Then, the abbot began to look for the body of the statue.
When he appeared at the national museum recently, hundreds of pilgrims flew from all over the country to voice their appreciation for his act and prayed in front of the Buddha's head.
"The head is not only solemn, but full of artistic aesthetics," the abbot told the ceremony. "If there is only a head, it's difficult for it to be worshipped no matter where it is. That's why I think it should return to its homeland."
The Buddha head is now exhibited in the museum's southern wing through March 15 together with its body, which is in two pieces, and it will be permanently combined later with the body by the Hebei Museum in Shijiazhuang.
Hsing Yun, who was born in Yangzhou, Jiangsu province, moved to Taiwan in 1949. But, he kept speaking there in the Yangzhou dialect, which was not easily understood by people. However, he managed to keep his sermons relevant.
"When I went to Taiwan more than 60 years ago, there were not many Buddhist facilities there, and Buddhist activities were largely restricted especially when Madame Chiang Kai-shek (a practicing Christian) didn't like Buddhism," he says. "Buddhism is a crucial part of traditional Chinese culture, and Taiwan cannot live without it."
Returning of the Buddha head shows that cross-Straits connections cannot be "cut by the sea", he says.