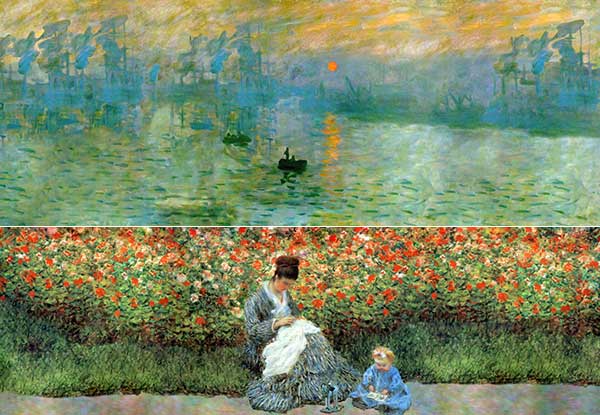 Impression, Sunrise and Camille Monet with a Child in the Artist's Garden in Argenteuil are among works by French impressionist artist Claude Monet for the upcoming Chengdu high-tech show.[Photo provided to China Daily]
Technology is being used to bring works by Western masters to smaller Chinese cities. Deng Zhangyu reports.
A multimedia show on the life and works of Claude Monet, a Western master of impressionism, will tour four cities in China starting in April, with its debut in Chengdu in Southwest China's Sichuan province, instead of in Beijing or Shanghai, which are typically the priority locations when Western masters are introduced here.
The high-tech show Monet's Impressionism will have about 400 high-resolution works of the master. When walking through the 1,800-square-meter show venue, visitors will experience the master's life in five parts-his early works, his meeting with impressionist friends and his wife Camille, the origins of his impressionism, his acceptance by the art world and his career.
Through three special sections, Rouen Cathedral will be brought to life-from canvas to reality-and Monet's water lilies will bloom in a pond.
Using 3-D technology and motion graphics, Korean production company BonDaVinci animates Monet's garden, his water lilies and other iconic images in the master's paintings.