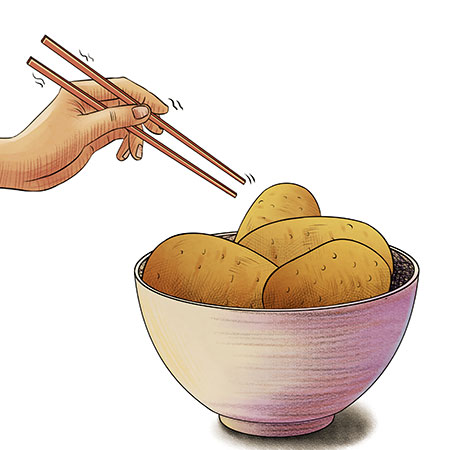 Potato is a kind of staple in many countries. [Photo/IC]
Do Peru's potatoes have the right stuff?
That's the question scientists will be asking in Lima next month, when a selection of tubers will begin undergoing tests to determine whether they're fit to grow on Mars.
NASA, the US space agency, is conducting the pioneering experiment together with Lima's International Potato Center (CIP).
They will cultivate a hundred selected varieties already subjected to rigorous evaluation in extreme, Mars-like conditions that could eventually pave the way to building a dome on the Red Planet for farming the vegetable.
The selection was made from a total of 4,500 varieties registered at CIP, a nonprofit research facility that aims to reduce poverty and achieve food security.
Of the selected candidates, 40 are native to the Andes Mountains, conditioned to grow in different ecological zones, withstand sudden climate changes and reproduce in rocky, arid terrain.
The other 60 are improved varieties able to survive with little water and salt. They are also immune to viruses.
Those that pass the tests must meet a final criterion-they must be able not only to grow well on Mars but also reproduce in large quantities.
"We're almost 100 percent certain that many of the selected potatoes will past the tests," says Julio Valdivia Silva, a Peruvian NASA astrobiologist who is taking part in the ambitious project.
The scientists hope the experiment will also help address the earthly scourges of hunger and malnutrition by identifying varieties suited to growing in harsh conditions.
"We must be prepared for the future," says virologist Jan Kreuze, a scientist at CIP. "To respond to desertification, rising temperature and high salt content in the soil."