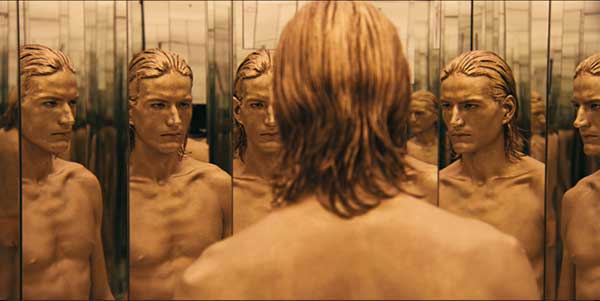 A scene from Odyssey, a short advertorial film made for Hennessy X.O by Danish director Nicolas Winding Refn.[Photo provided to China Daily]
The way Danish film director Nicolas Winding Refn was officially introduced to China was kind of unconventional.
It was through his new 90-second advertorial film for Hennessy X.O, rather than a real film, targeting China via the Internet and traditional TV channels.
The 45-year-old, whose Drive won him the 2011 best director award at Cannes, visited China for the first time on March 1, bringing a short ad film Odyssey made for Hennessy that he insisted on calling a movie. Three months ago, his latest movie The Neon Demon was sold to a Chinese company.
"China's film market is difficult to penetrate. Now that I've done it with Odyssey, I feel like I've got an official introduction to the Chinese market," says Refn, whose previous films like the Pusher trilogy, the biopic Bronson and thriller Drive left an impression of male violence.
His movies have never been seen on the big screen in China.
"I've arrived. I think it's the perfect time. The right time and the right moment," says Refn.
He says that The Neon Demon, which was just sold to China has no male violence.
This time it's dominated by females with only one supporting male star, Keanu Reeves.
Now that he has started visiting to China, the director says he will come more often either to shoot in China or bring his films.
The 90-second advertorial film is different from traditional ads and is a very Refn type of work, full of imagination with painting-like scenes such as an exploding forest, a woman standing in a tiger's mouth and a flaming hand.
Refn's name appears in the credits.
Hennessy says it'll be on most Chinese video websites and some traditional TV channels from March 11.