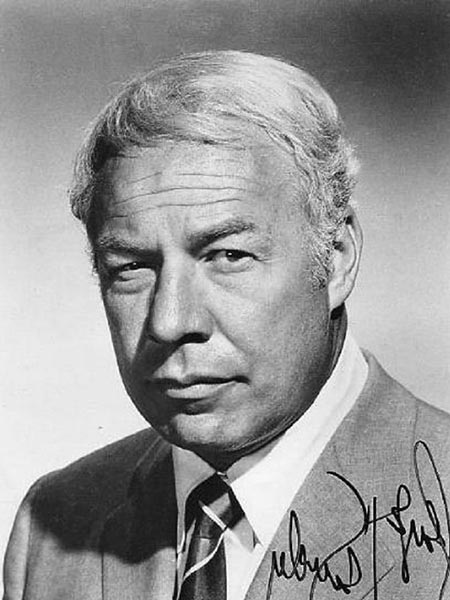 George Kennedy. [File photo]
George Kennedy, an American actor who won an Academy Award for playing a hulking chain gang convict who pummels Paul Newman in the 1967 film Cool Hand Luke and later earned laughs in the Naked Gun comedy films, has died, media outlets reported on Monday. He was 91.
The Hollywood Reporter and Variety, citing a Facebook post made by Kennedy's grandson, said the actor died early on Sunday in Boise, Idaho. Reuters could not independently verify the reports.
Born in New York to a show business family in 1925, he enlisted in the US Army during World War II, eventually spending 16 years in the military before a back injury prompted him to try acting as a profession.
A versatile character actor, the husky 6-foot-4 Kennedy appeared in innumerable films and TV shows, initially playing villains. His breakout role came as Dragline, a prisoner in Cool Hand Luke, set in the US South in 1948.
At first, his character mercilessly bullies Newman's Luke, a newcomer to the chain gang, but eventually comes to revere him. In one scene, he gets to clobber Newman, perhaps the world's biggest movie star at the time. Luke is bloodied and battered by Dragline in a makeshift boxing match, but refuses to stay down, earning the respect of his tormenter and the other prisoners.
Kennedy won an Oscar for the role as best supporting actor. His character's attitude is illustrated by a speech to a new prisoner: "Boy, you're new meat. You're gonna have to shape up fast and hard for this gang. We got rules here. In order to learn 'em, you gotta do more work with your ears than with your mouth."
His characters in other movies also got to rough up screen legends, including Cary Grant, as a hook-handed thug on a rooftop in 1963's Charade, and Clint Eastwood.
"Acting is beautiful. If I'm prejudiced toward doing it, it is because of the joy that I derive from it," Kennedy told Smashing Interviews Magazine in 2011. "Did I like what I did? Oh my God, yes!"
He appeared in several 1970s disaster movies, including all four Airport movies and Earthquake in 1974. Kennedy was also known for a role on the popular TV series Dallas.
After acting in serious roles for most of his career, Kennedy threw himself into comedy as Captain Ed Hocken, the sidekick to a daft Leslie Nielsen, whose bumbling cop Frank Drebin was the driving force in the hysterical Naked Gun comedy films.
His many other films included The Dirty Dozen, The Eiger Sanction, and Death on the Nile. Kennedy made countless appearances on TV and was a series regular during part of the run of the popular prime-time soap opera Dallas.
Not every one of Kennedy's projects was a gem, however. For example, he appeared in Bolero, a film starring actress Bo Derek and directed by her husband that is considered one of the most ludicrous of the 1980s.