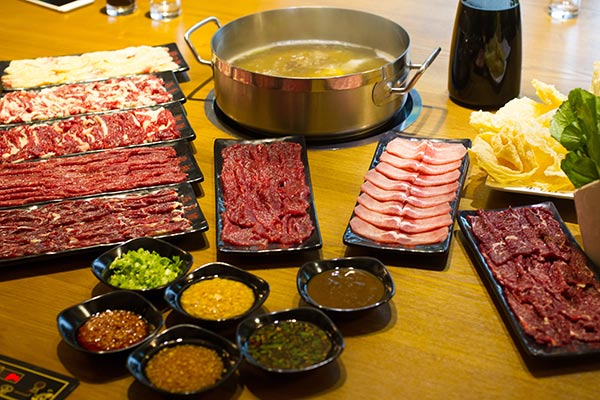 Chaoshan beef hotpot restaurants become popular in Shanghai because of the strict selection of beef and cutting rules. [Photo by Gao Erqiang/China Daily]
While the bull disappeared from Shanghai's roiling stock market in the latter half of 2015, it has been easy to find in-between the chopsticks of the city's most active diners. In fact, beef may have surpassed pork for choice by many in recent months.
Beef lovers have long gathered at upscale Western steakhouses and Taiwan-style beef-soup noodle eateries. The trend-setting, however, is most apparent at a less high-profile venue: The Cow's Story, featuring a rather niche cuisine from Chaoshan, a region that many may only know vaguely as "somewhere in southern China".
"Chaoshan beef preparation would not be overshadowed when compared with Japanese Wagyu or any fine fillet from steakhouses," says Chen Manqi, a native of Chaoshan, Guangdong province, who now lives and works in Shanghai.
For sure, the 31-year-old is biased, as she has been running several restaurants serving the cuisine from her hometown for more than a decade in Shanghai.
But you don't have to take her word for it: Chaoshan hotpot restaurants are sprouting up around Shanghai, with more than 200 recent openings in less than a year. For context: The total number of hotpot restaurants in the city is around 6,000, according to figures from Dianping.com, the most-used restaurant listing in China.