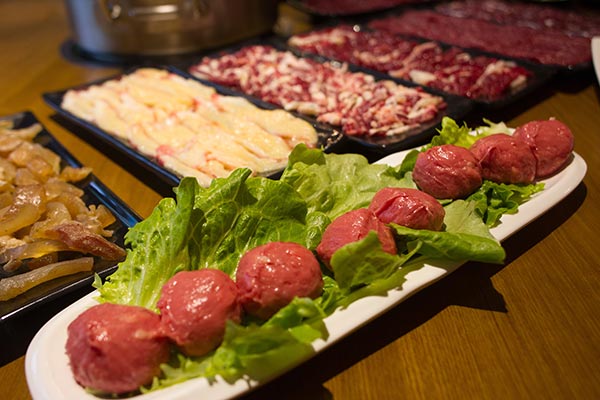 Chaoshan beef hotpot restaurants become popular in Shanghai because of the strict selection of beef and cutting rules. [Photo by Gao Erqiang/China Daily]
Chen was among the first in the city to open a Chaoshan hotpot restaurant, back in April last year, but she says it has been amazing, even to a fan like herself, to see so many similar ones mushrooming during the past year.
Chaoshan hotpot, or Chaoshan beef hotpot, distinguishes itself from relatives like the spicy Sichan version or the pricey Hong Kong style by concentrating very much, if not entirely, on beef.
In fact, people there have been so serious about the meat, which is dipped in the broth for no more than one minute, that a completely new terminology has been coined to name the variety of cuts from different parts of cattle.
Diaolong, for example, is the equivalent of rib-eye; shibing refers to the finest cut of chuck that accounts for less than 1 percent of a whole cow. There are altogether seven to eight types of cuts named and offered at a Chaoshan hotpot restaurant.
There is also a strict set of rules about how many seconds each cut should be dipped in the boiling broth, which contains nothing but water and chopped celery. (At some restaurants the broth would be beef bone stewed for hours before being served.)
"Chaoshan cuisine is very much about originality and freshness," says Chen, who started cooking and selling Chaoshan dishes in Shanghai with her husband as street vendors, mostly to Guangdong natives who were doing contract business here. The cooking style is also known as Teochew cuisine, Chiuchow cuisine and Chaozhou cuisine, and it has influenced (and been influenced by) both Cantonese and Fujian cuisines, which originated nearby. Chen says Chaoshan cuisine is less delicate than Cantonese and puts more emphasis on the ingredients used.
For the beef hotpot, only meat from female yellow cattle that are 1 to 3 years old is used, which is considered to be tenderer than its male counterpart but still features good fiber and firmness.