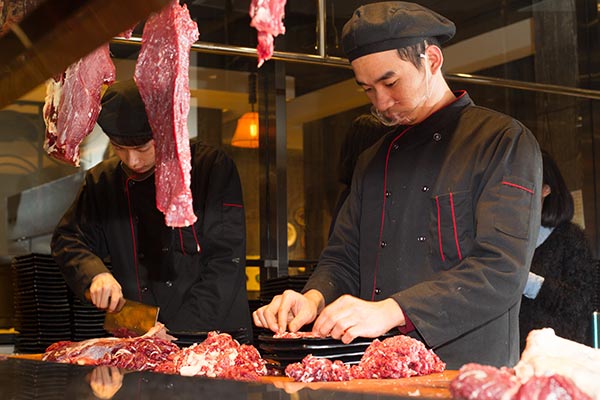 Chaoshan beef hotpot restaurants become popular in Shanghai because of the strict selection of beef and cutting rules. [Photo by Gao Erqiang/China Daily]
After meat arrives in large chunks at Chen's restaurant, usually within four to six hours of slaughter, veteran butchers slice it paper-thin, without disrupting the fiber of the meat.
"It's a job only those from Chaoshan can accomplish and excel at," boasts Chen.
Yan Tao, chief editor of China's Southern Metropolis newspaper, wrote in his column that people in Chaoshan "borrowed" the beef-eating tradition while doing business with their neighbors, Hakka people, a traditionally mountain-dwelling group who rely heavily on cattle for transportation and food.
The fact that Chaoshan doesn't raise its own cattle makes the people there particularly treasure the animal, and they make use of every bit of it. For example, the back shank, which is mostly discarded in other cuisines for being too stringy, is used for meat balls in Chaoshan, with methods the coastal region has developed for making fish balls.
To highlight the flavors of the beef, a trio of sauces is offered to suit different palates. Satay sauce has been "transplanted" by Chaoshan businesspeople after traveling back from its birthplace in Southeast Asia. Its slightly sweet flavor is loved by many, but sometimes overshadows the subtle sweetness of the beef itself. The distinctive aroma from the garlic oil matches particularly well with lean meat, for those not troubled by the after-smell of garlic. Puning yellow-bean sauce, which has been as prevalent in Chaoshan as spicy sauce is in Sichuan, offers an exciting wake-up experience to the tongue with its strong but fragrant saltiness.
To conclude the meal in Chaoshan style, order a plate of guotiao, or rice noodles, and throw them in the broth for three to five minutes. The result is a mouthful of slippery and smooth noodles, each thread redolent with the flavor of beef.
By then you may be wishing we humans could have as many stomachs as cattle do.
If you go
The Cow's Story (flagship store)
709 Jiaozhou Road, Jing'an district, Shanghai.
There are another three outlets of the restaurant, with fewer seats and smaller spaces. Reservations are highly recommended. 021-6184-7777.
Related:
Use of mobile apps skyrockets in food industry