Famous Spanish chef embraces Chinese cuisine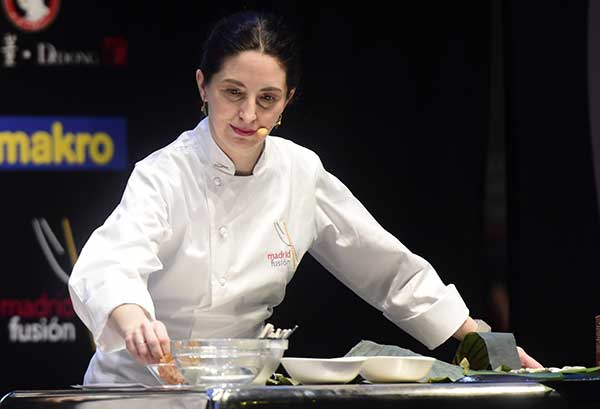 Spanish chef Elena Arzak presents a recipe during a gastronomic fair in Madrid. She says traditional Chinese cuisine has been a longtime inspiration for her dishes.[Photo/Agencies]
Spain's Elena Arzak says traditional Chinese cuisine has been a long-time inspiration for her dishes. "My father and I have always been greatly influenced by Chinese cuisine as we have always liked it," says Arzak, whose father is the famous and award-winning chef Juan Mari Arzak.
Father and daughter work together in their restaurant, Arzak, located in the village of Alza, now part of the city of San Sebastian in northern Spain. The restaurant has received numerous accolades from the mid-'70s onwards, including a third star in the prestigious Michelin Guide in 1989.Arzak has been touted as one of the 10 best restaurants in the world, and Elena Arzak now also directs Ametsa with Arzak Instruction at the Halkin in London, which has one Michelin star.
Arzak says she has always really liked Chinese cuisine and one of the first books her father gave her was The Heritage of Chinese Cooking. "There I discovered many recipes," she says, adding, "we have always liked ... how they use sesame oil, spices. I love Sichuan pepper!"
While the "pepper that numbs the mouth" attracted her attention and taste buds, she says, "you cannot give it to everyone because for some people it would be too strong".
Arzak visited China in 2010, where she participated in the Shanghai World Expo involving 217 countries. On the "Day of Spain", she prepared dishes such as melon bread with ham, anchovies with strawberries, cod omelet and "chocolate burger", among others at the Melia Hotel.
"The experience was very interesting because I worked with the head chef at the Melia, who was Spanish, and with a Chinese team," she says.