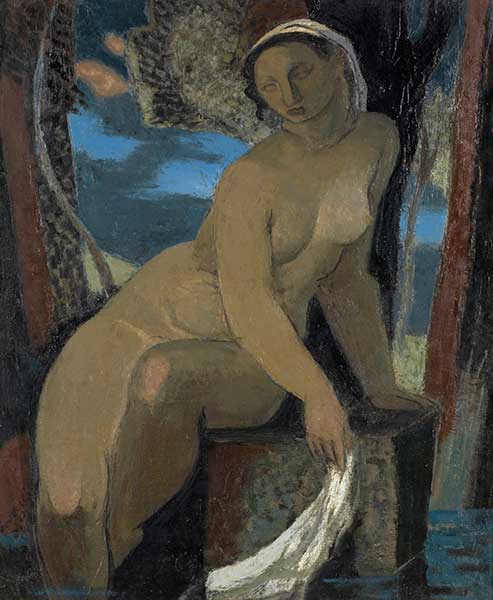 Jean Souverbie's work Nude at the Spring is on display in Beijing.[Photo provided to China Daily]
The modernism movement nurtured a number of Chinese artists who studied and lived in France in the early 20th century, such as Lin Fengmian and Xu Beihong. Many of them, after returning home, spearheaded the modernization of Chinese art and education and the influence endures to date.
French Art Spring Salon, an ongoing exhibition celebrates the diversity of art scenes of that period with a display of paintings created by many important figures of European modern art, including Emile Othon Friesz, an artist of the Fauvist movement, and Remy Hetreau.
Beijing-based Huachen Auctions is holding the art show in its premises, catering to mainland collectors' emerging interest in Western art.
"A growing number of Chinese today will visit museums and art galleries when traveling abroad, such as the Louvre and Centre Pompidou," Liu Ying, director of Huachen Auctions' modern and contemporary Chinese art department, tells China Daily.
After entering the mainland market, international auctioneers Christie's and Sotheby's have been staging auctions and exhibitions of Western art.
She says these factors combined keep people's interest alive as they want to know more about Western art and how to collect it.
Although some top-notch collectors like Liu Yiqian and Wang Zhongjun have bought pricey Western art for years, Liu says, for the majority of buyers the trend to collect Western art has just started.
Liu says through this exhibition they hope to understand more about what kinds of works will attract potential buyers.
Philippe Cinquini, a Shanghai-based French curator who engages in art exchange programs, was invited to give a speech on the displayed artworks.