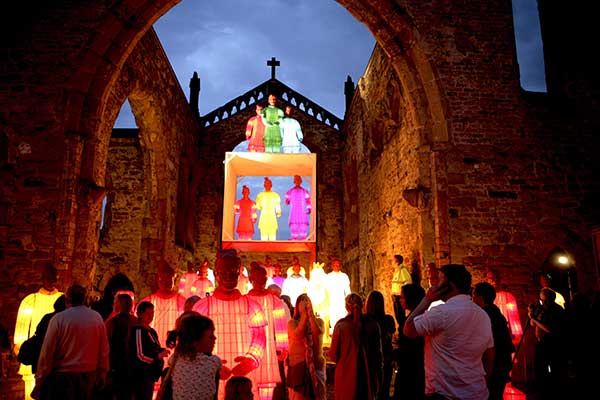 Terracotta Warrior-inspired lanterns attract visitors during the 2012 Stockton International Riverside Festival in Britain.[Photo provided to China Daily]
Large-than-life installations of Terracotta Warriors and their horses will light up a public park and a square in Colombia's capital Bogota every night from March 11-27, the seventh time these colorful lanterns will go abroad, and mark the opening of the 2016 China-Latin America and Caribbean Year of Culture Exchanges.
All together, there are 80 warrior-inspired installations and two life-size horses. They glow at night in red, blue, yellow, white and pink. The warrior-shaped lanterns have different facial expressions, a take-off on the real Terracotta Warriors unearthed in 1974 in Northwest China's city of Xi'an.
"Colombia is the farthest country our installations have been. They have always been warmly welcomed and loved when they were shown in different countries in the past few years," says Xu Wei, the director of the team that makes the lanterns in Beijing.
Since 2012, the lanterns have been taken to Britain, Australia, Finland, the Czech Republic, Croatia and Estonia.
Xu says the team get invitations from so many nations that they do not have enough lanterns to display. His team has made about 300 such lanterns so far.
The production team, made up of artists and craftsmen, first created the lanterns for the 2008 Olympic Games in Beijing. The lanterns have an iron structure, rainproof attire and clay heads.
"If the heads were made of the same material as the clothes, the warrior-inspired lanterns would have looked like bank robbers when the lanterns were turned on," says Xu, adding that the team had experimented a lot before deciding to make clay heads for the lanterns.