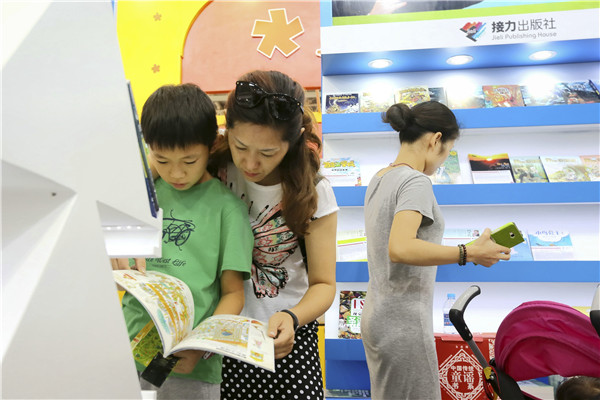 A young reader and his mother look at publications at a Beijing book fair.DA WEI/CFP
Yang Chenxi, an 8-year-old from Zhejiang province's Huzhou, recently spent half of her summer holidays with her grandparents in the countryside in Suqian, Jiangsu province.
Every night before bed, the girl, a fan of Disney cartoons and My Little Pony, begged her grandmother, Li Yuehua, to tell her a story.
"I told her stories about how bad people who mistreated good people were punished, and stories about illiterate but cocky people who made mistakes when they tried to read Chinese characters. My granddaughter loved the stories and laughed a lot," says Li.
Thankfully, for Chinese children like Yang, Western fairy tales like The Little Mermaid and Cinderella are not the only options when it comes to bedtime stories.
In recent years, Chinese writers have been using tradition, folk stories and legends to create books for children.
Wang Quangen, a professor of children's literature at Beijing Normal University, is currently working on a series of six books based on stories from such Chinese classics as In Search of the Supernatural from the Eastern Jin Dynasty (AD 317-420), Classic of Mountains and Seas from the Warring States Period (475-221 BC), Miscellaneous Morsels from Youyang from the Tang Dynasty (AD 618-907) and Strange Stories from a Studio from the Qing Dynasty (1644-1911).
For the series, called Chinese Fairy Tales Passed on From Generation to Generation, Wang has chosen 217 stories and is rendering them into language children easily understand.
"We need to pick stories that will not only interest children today, but also cater to current tastes and values. Through these books, children should be able to see the virtues and the wisdom of the ancient Chinese," says Wang.
On the cover of one of the books is an illustration from a story titled Maid Yexian, a tale similar to Cinderella.
It is a story from Miscellaneous Morsels from Youyang about a maid named Yexian, who can make clothes using gold thread.
After her parents die, her stepmother treats her badly.
One day, she loses her shoe on her way back from a party, which leads to her encounter with her Prince Charming.
The tale, however, does not end like Cinderella.
The tale of the maid Yexian existed at least 800 years before Cinderella, but few Chinese know the story.
"From this perspective, this series promotes classic tales that have been forgotten," says Wang.
Wang Lin, who has a PhD in children's literature and is a promoter of children's reading, says that in a globalized world-where language does not indicate nationality-the cultural genes of a nation are represented by the songs people sing, the books they read and the stories they listen to when they are young.
Last year, a set of three books based on mythical creatures in the Forbidden City (also known as the Palace Museum) was released and became very popular with children.