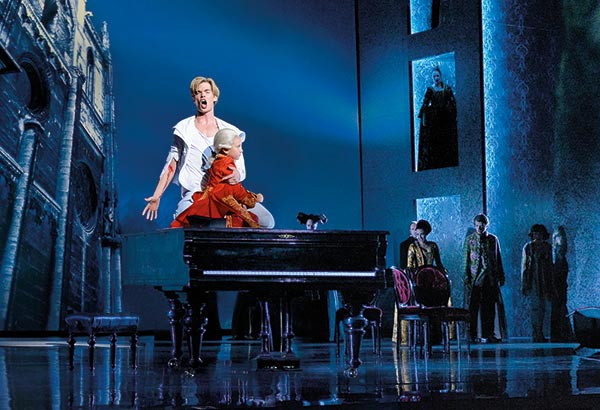 A scene from the musical. [Photo/VBW/Deen van Meer 2015]
Musical genius Mozart will have his life story told through a German musical in Shanghai this Christmas.
There will be 40 shows of the German musical Mozart! staged at the Shanghai Culture Square from Dec 13 to Jan 15, 2017.
Ticket sales will begin online and offline on May 21.
The play with lyrics by Michael Kunze, and music composed and arranged by Sylvester Levay was premiered in Vienna 1999. It is directed by Harry Kupfer.
The musical is a new production by the original producer, VBM, arguably the most successful musical company in Europe.
Last year another German musical Elisabeth by VBM was presented at the Shanghai Culture Square, and its box office success, besides positive reviews, has encouraged the company to return with a new show.
"What you see in Shanghai will be the same as in Vienna," says Fei Yuanhong, the artistic director of Shanghai Culture Square.
The play is based on the life of Wolfgang Amadeus Mozart. As a child prodigy, Mozart had a troubled life, filled with confusion, pain and struggle.
Although the production is a historical play, Mozart! will have a distinctive contemporary touch, says Fei. "You will see Mozart in a white outfit playing an electric guitar onstage, and yet you won't feel it is out of place."
As the musical is not touring production, there are no plans for an extensive tour of China.
Referring to the cost of bringing the show to China, Zhang Jie, the general manager of Shanghai Culture Square, says: "It is an expensive production. But we believe that fans of musicals in Shanghai are entitled to see the best shows in the world."
Related:
Small stage makes big difference