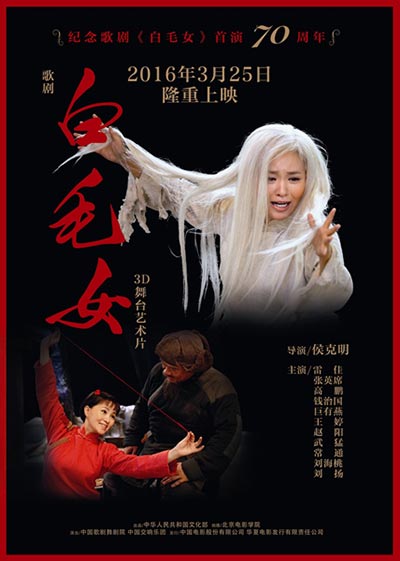 The White-haired Girl poster. [File Photo]
A film adapted from the classic opera
The White-haired Girl
hit Chinese theaters on March 25.
The film is based on a well-known Chinese folk tale about a girl named Xi'er, the daughter of a poor farmer in Shaanxi province whose father is forced to sell her to his landlord. Xi'er escapes and hides on a mountain after her father commits suicide. Due to her extremely difficult living conditions, Xi'er's hair turns completely white. When she's later rescued by the Chinese Communist army and gets married and her hair turns to black again.
The first opera performance of the story was in 1945, and subsequent adaptations followed, including the first film adaptation in 1950. A number of actresses have portrayed the lead character over the decades, including current Chinese First Lady Peng Liyuan. 
The new 3D version is directed by Hou Keming and stars a new generation of actors, including Lei Jia, Zhang Yingxi, Gao Peng, Qian Zhiguo, Wu Meng and Chang Tong. China's Ministry of Culture produced the film with the filming and production was done by the Beijing Film Academy. The China National Opera & Dance Drama Theater and the China National Symphony Orchestra contributed actors and music to the film.
Hou said his cast and crew went to the rural areas where the legend allegedly happened to study and immerse themselves in the environment.
"The White-haired Girl is a landmark classic in Chinese opera history," said Rao Shuguang, secretary general of the China Film Association. "It used the essence of traditional opera and effectively mixed it with Western opera. "
The 3D version keeps the original charm while enhancing the film with current technology. Tian Hua, a veteran artist who also once played the lead role in The White-haired Girl, said that using 3D technology to showcase traditional opera "is pioneering."
Related:
Remake of opera The White Haired Girl to hit cinemas