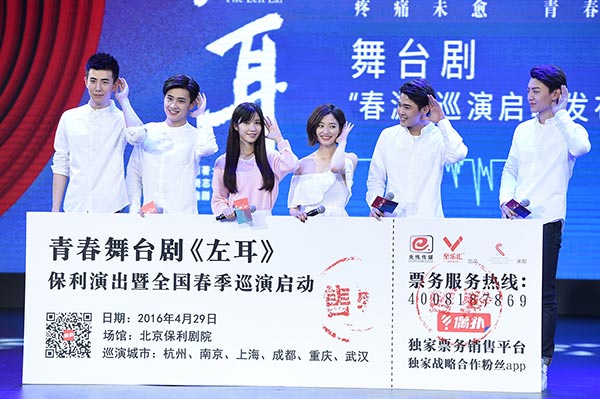 Cast members of The Left Ear. [Photo provided to China Daily]
The coming-of-age hit movie,
The Left Ear
, Taiwan A-lister Alec Su's directorial debut, has recently been adapted to a namesake stage play.
Based on best-selling novelist Rao Xueman's novel of the same title, the movie, which grossed 470 million yuan ($72.1 million) last year, was a commercial high for the newbie director.
The stage play, directed by Rao Xiaozhi, stars a young cast, who were all born in the 1990s.
Most of the cast are up-and-coming stars, who gained their reputations from being Internet sensations or working in TV variety shows.
The play, which will be performed at Beijing's Poly Theater on April 29 and 30, will tour six Chinese cities — Hangzhou, Nanjing, Shanghai, Chengdu, Chongqing and Wuhan.
Speaking at a recent event to promote the play, Li Chuan, the lead actor, who read the novel in 2005, when he was still in primary school, says: "I never imagined that one day I would play the protagonist."
According to the play's online ticket site Illoveoops.com, more than 1,300 tickets for the Beijing performances were sold within 10 minutes of the sales starting on March 21.
Enlight Media, the country's largest privately owned entertainment group, says the play is its first effort at transforming a commercially successful firm into a stage play.