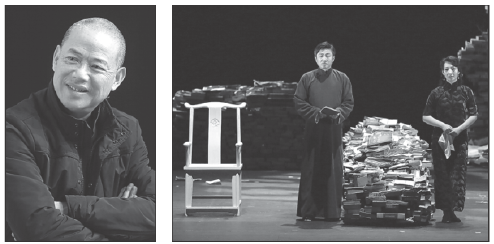 Director Li Liuyi (left) presents Spring in a Small Town in Beijing. The play is adapted from a 1948 film of the same title, a milestone in Chinese filmmaking.[Photo by Zou Hong/ China Daily]
Spring in a Small Town, a 1948 film by late director Fei Mu, is among the finest from the early days of filmmaking in China.
When Li Liuyi, director and playwright of the Beijing People's Art Theater, first watched the film in the 1980s, he was so impressed that he wanted to adapt it for the stage.
In 2015, he finally made the play Spring in a Small Town, and presented it to audiences in Hong Kong and Shanghai.
The play will make its Beijing debut on April 2 and run for two days.
Set in a small Chinese town after the War of Resistance Against Japanese Aggression (1937-45) had ended, the story revolves around Dai Liyan, a man who revels in the nostalgia about his family's once-wealthy past, and his lonely wife, Zhou Yuwen, who helps him with his daily medication.
The couple's loveless yet loyal marriage is thrown off balance with a sudden visit by Zhou's childhood sweetheart, Zhang Zhichen, for whom she still has feelings.
Li describes the play as a tribute to Fei, whose approach to cinema influenced a later generation of Chinese directors, including Zhang Yimou and Chen Kaige.
Fei's use of locations, colors and psychological portraits of characters also influenced Li.
"I was touched by the film from the very first scene that has the wife wandering aimlessly amid the ruins of a city," Li, in his 50s, tells China Daily.
Li, who is also the play's scriptwriter and stage designer, didn't change much of the original script, making the play an example of "pure drama", a concept he came up with to take audiences back to the essence of drama at a time when more theatrical forms of entertainment is being used.
His set design is aimed at creating a space for acting with minimal distraction.
"The audiences and actors are emotionally connected in a matter of two hours ... which is the most beautiful thing about theater," Li says.
Born in Chengdu in Southwest China's Sichuan province, Li graduated from the Central Academy of Drama in Beijing, and he is considered a pioneer of Chinese theater. With works covering traditional Chinese operas, avant-garde plays, Western operas and ballet, Li seems to usually draw a contemporary flavor from classic works that inspire his productions.
Since his college days, Li's daily reading habits have included classics.
Five of Li's works will be staged later in the year, including a version of Russian playwright Anton Chekhov's The Cherry Orchard, which will be performed by the Beijing People's Art Theater on June 16, and an adaptation of Prometheus Bound, part of his play trilogy based on ancient Greek tragedies.
He will also bring a play based on renowned playwright Cao Yu's classic, Thunderstorm, to the Shanghai International Arts Festival in October, and direct King Lear, which is produced by the United Kingdom-based Royal Shakespeare Theatre.
"Chinese theater is largely commercialized now. I hope to offer spiritual works rather than simply make people laugh or scared," he says.
For the play Spring in a Small Town, he has paired yet again actress Lu Fang and actor Pu Cunxin from his theater group. They have featured in most of his newer plays.
Lu says: "I have been working with Li since I graduated from the Central Academy of Drama. I like the conflicts and emotions his characters experience."
Li attributes his distinct approach to theater to an eight years of research at the Chinese National Academy of Arts right after his graduation days.
Born into a family of traditional opera performers, Li has seen the Chinese art form in its various versions-from Kunqu to Peking and Sichuan. And as a result, his latest play also bears components of Chinese opera.
"Because each opera contains rich elements, such as costumes, bands and dialects, it's the best way to know the regional culture," says Li.
In 1987, Li made his first play, The Good Person of Szechwan-written by German theater practitioner Bertolt Brecht, combining Western drama with Sichuan Opera.
Li achieved fame with that work and made a name for himself in Chinese theater while still in his 20s.
In 2012, he launched a project, called "Made in China", aiming to establish an identity for Chinese drama as opposed to copycat productions of Western drama.
"When my works are being staged, I usually sit at the back of the theater and observe everything. At that moment, it seems like the work has nothing to do with me and I just watch it like a member of the audience," says Li.
"That's also the moment, when I enjoy being a theater director. If the audience can also share my excitement about the work, then my goal is achieved."
If you go
7:30 pm, April 2-4. Tianqiao Performing Arts Center, 9 Tianqiao South Street, Xicheng district, Beijing. 400-635-3355.