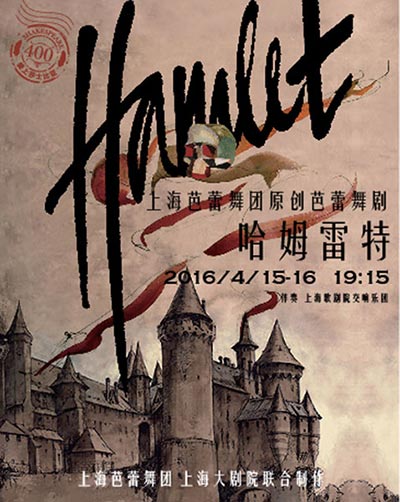 A poster of the upcoming ballet Hamlet presented by the Shanghai Ballet and the Shanghai Grand Theater. [Photo/Douban.com]
A full-length ballet based on Shakespeare's play
Hamlet
will premiere at Shanghai Grand Theater next week.
This new production will interpret the most famous soliloquy of all times, "to be or not to be," through dance movements.
It is the first feature ballet production of the masterpiece, which aims to bring out all the tragic and happy moments in the story of Hamlet.
The Shanghai Ballet and the Grand Theater co-produce the play, following their successful collaboration on The Nutcracker in 2010, Jane Eyre in 2012 and Echoes of Eternity last year.
The choreographer said the dance movements in this play involve "neoclassical work, as well as contemporary work."
The two-hour production will hit the stage in Shanghai on April 15 and 16.
Related:
Ballet 'Hamlet' keeps performers on their toes, literally
Postage stamps issued in Britain to mark 400th anniversary of Shakespeare's death