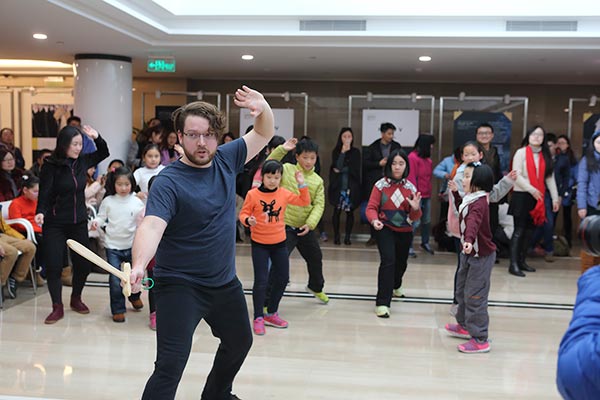 Actors from Urban Aphrodite International, a private theater company in Shanghai, host a workshop to help youngsters better understand Shakespeare's plays. [Photo provided to China Daily]
A creative fair was held at the Shanghai Grand Theater at the weekend as part of activities to mark the 400th death anniversary of master playwright William Shakespeare.
More than 5,000 people attended the event that included a broadcast of the British National Theatre's production of Hamlet, starring Hollywood actor Benedict Cumberbatch, and a few workshops and seminars on Shakespeare's works.
The Royal Shakespeare Company debuted in China this year, beginning with the Henry trilogy in Beijing a few days ago, and the plays will be staged in Shanghai over Feb 25-28.
"We have planned yearlong performances and other events for Shakespeare's anniversary," says Zhang Xiaoding, general manager of the Shanghai Grand Theater.
"Ballet du Grand Theatre de Geneve has two programs on tour internationally, and we chose to introduce its A Midsummer Night's Dream in April, and likewise, we have intentionally picked concerts that include some Shakespearean pieces," Zhang says.
More than half of the events to be hosted at the theater this year are related to the Bard of Avon. Highlights include Mariinsky Ballet's Romeo and Juliet in October; Shakespeare in Love, a show by acclaimed chamber group The English Concert in December; as well as the premiere of Shanghai Ballet's original production of Hamlet in April.
"In order to make our efforts known to the public, we decided to ... open the theater to its maximum capacity," Zhang says. "We hosted the creative fair, so that anyone-not only those buying our show tickets-is invited, to have fun with us."
Four such fairs have been planned for the whole year, says Li Jiajie, of Shining On Culture, a Shanghai-based company which is working with the theater to host the fairs.
"We will handpick vendors to fit in with the theme of each session," Li says.
The first session's theme is "retro and England", for which Li's company has brought in vintage jewelry, imported antiques, do-it-yourself handicrafts and Twinings tea.
The yearlong program also has public educational projects.
During the weekend, when two workshops were held at the Shanghai theater, artists from Fly Improv led participants through experiments of impromptu drama, and those from Urban Aphrodite International shared their experiences of performing Shakespearean plays. Both groups are private theater companies based in Shanghai.
Two full-house lectures were also given at the theater, where Shi Zhikang, a professor from Shanghai International Studies University, spoke on understanding Hamlet, followed by translator Lu Dapeng's talk on the House of Plantagenet.
Related:
Bard fans in China get to watch his Prince Hal in action