New chef is a game changer at Swiss Taste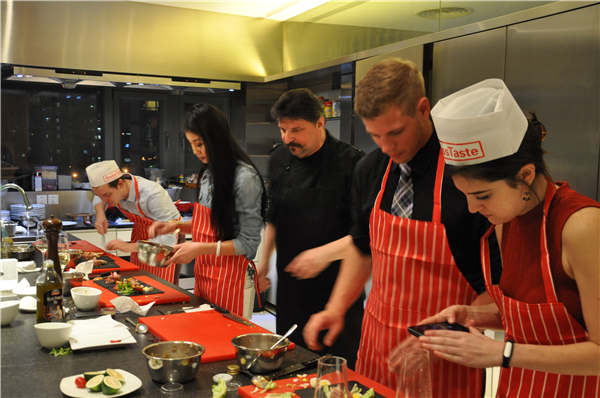 Austrian chef Alfred Krasser (center) hosts a cooking class in the kitchen of Swiss Taste. Photos provided to China Daily
A new chef shakes up the formula at Swiss Taste, bringing more of that country's varied European influences to the table. Mike Peters steps in for a tasting.
Alfred Krasser is chatting about the new spring menu at Swiss Taste when a waiter appears at his elbow. There is a problem at a nearby table, where four men are debating about ordering lasagna.
The big Austrian chef is at their table in a flash. Turns out that under the baked pasta, besides beef there will be pork-and that's a dietary taboo for two of the diners. Can they have the lasagna with only beef?
Krasser explains that the lasagna is not made to order, but baked early and allowed to set, so the herbs, meat and tomato sauce flavors can meld. Making a beef-only version while they wait isn't really practical.
"But we have many beef dishes," Krasser says, promising a plate of nice tenderloin and some vegetables.
Everybody is happy.
For the waiters, it was a nervous encounter, but for an Austrian recently transplanted to a Swiss restaurant after three years in China, navigating currents across culinary cultures is all in a day's work. The cuisine of his native land is influenced by Germany and other neighbors, while Swiss fare embraces German, French and Italian traditions.