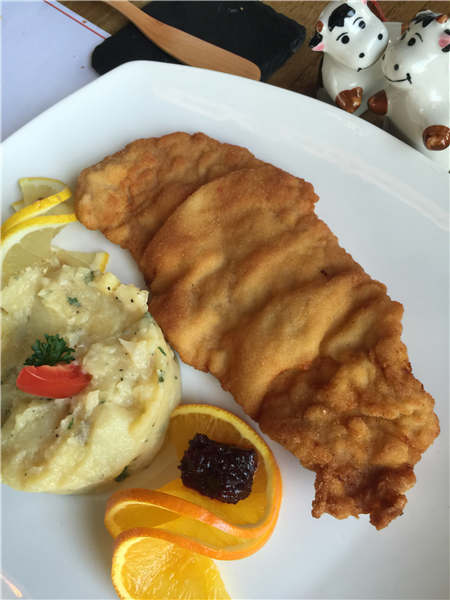 Wiener schnitzel.
Now ensconced in the kitchen at Swiss Taste, Krasser is adapting in new but familiar ways. As head chef at Tafelspitz, the Austrian restaurant that abruptly closed last fall, the Gault et Millau-certified Krasser was largely in the background, running a fine-dining kitchen. At Swiss Taste, the menu is more accessible, and Krasser is too, often chatting with customers after the lunch or dinner rush, along with the eatery's founding partner and host, Peter Troesch.
"Here we can show off the quality he's become known for," says Troesch of his chef, "but without the fuss".
For its first year in Beijing's central business district, Swiss Taste has been focused on basic fare-"the German-Swiss repertoire", says Troesch, but recruiting Krasser is a chance to add variety as Year Two unfolds.
The evolving spring menu, for example, features duck and foie gras, two elements that are common in the French-Swiss area of Geneva but virtually taboo in German-speaking Zurich. The duck is served with Waldorf salad, a mix of chopped apples, grapes and walnuts that was invented by a Swiss maitre d' at New York's Waldorf-Astoria hotel. (The same Swiss guy invented eggs Benedict, Troesch is eager to tell us, and that too will be on the new menu when it debuts on April 15, the restaurant's anniversary.)
Next comes white asparagus cream soup, a seasonal favorite in Europe from Easter to Mother's Day, followed by pan-fried goose liver: A slice of foie gras is perched on a bed of pumpkin-potato mash, apple, pear and port-wine essence.
Midway through the tasting session comes a series of plates for family-style sharing: pan-fried codfish with garden vegetables, Vienna-style pork schnitzel with potato salad, Zurich pork ragout with rosti potatoes, and succulent beef tenderloin with herby pats of Cafe de Paris butter (a Swiss original despite the name, we're told).