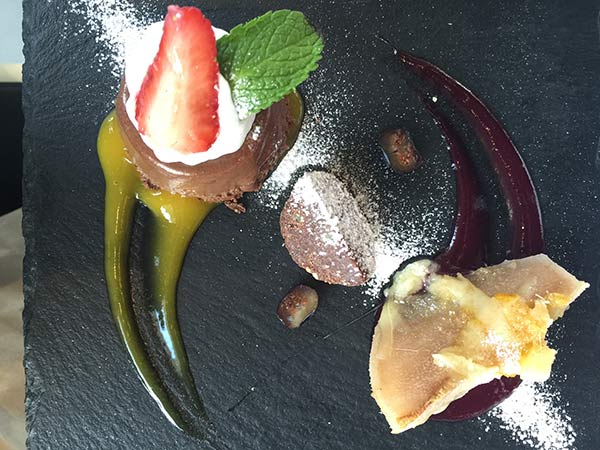 Roasted pear with cheese and chocolate.
Dessert? After a multi-tiered tower of cheeses and cake nibbles, like a Swiss-style tea tray, comes a plate of poached pear with Swiss cheese and chocolate mousse-a combination that seemed weird but was a flavor bomb, as the chef had promised with a grin.
Overall, says Troesch after inviting the chef to join our table at the end of the meal, Swiss food is hearty with a focus on quality fresh ingredients. That's a formula that gives Krasser plenty of room to maneuver.
As Swiss Taste nears its one-year marker, it's reaching beyond the restaurant's Central Park storefront. A cooking school hosts corporate and group events, and scheduled classes for individual sign-ups are in the works. The restaurant is launching an alpine club for skiing, snowboarding, mountaineering, hiking, biking and other outdoors enthusiasts-with food tie-ins-and other plans include a chalet-style spinoff at a Chinese ski resort.
In full swing already is Downstairs Neighbours, which delivers Chinese-style dumplings with a wide variety of fillings, both Eastern and Western. The latter include jaozi stuffed with pumpkin; green pea, mint and ricotta; salmon and dill; and three other Swiss-inspired combos. Those six offerings, however, are dwarfed by the 15-20 with Chinese fillings from tomato and egg to shrimp, wood-ear mushrooms and chives.
"That started with our breakfast trolley," says Troesch. "That's the food cart we take to embassies in the morning with European-style breakfast items. But of course, most of the people working in the embassies are Chinese, so our offerings started to expand. Now Downstairs Neighbours is a separate business, our sister company, with lots of Chinese items on the menu."
Expanding and adapting seems like a theme for the year ahead.
If you go
Swiss Taste, Central Park, No 101 in Building 18, 6 Chaowai Dajie, Chaoyang district, Beijing. 010-6597-9229.