Cognac finds a good match with Fujian delicacies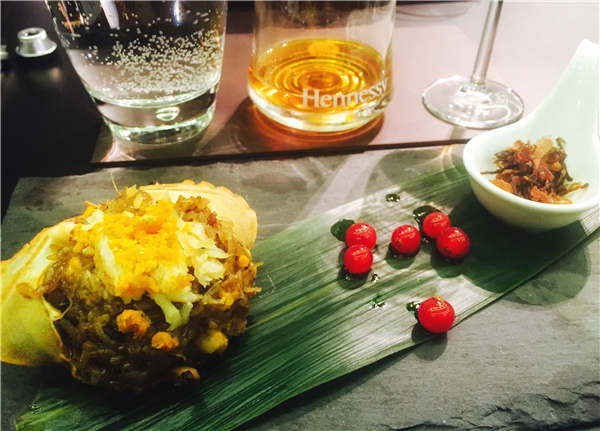 Steamed crab and sticky rice are believed to enhance the fruitiness in Hennessy VSOP to elevate the complexity of cognac taste. Liu Zhihua / China Daily
A recent cognac and food tasting in Xiamen was the second event in a campaign aimed at "rediscovering Chinese tastes" organized by the French luxury-liquor giant LVMH Moet Hennessy Louis Vuitton.
The French company launched the promotion in Guangzhou, Guangdong province, in December to spotlight the variety of dining experiences that can be shaped by the chemical reactions between cognac and different Chinese foods.
While the opening event in Guangdong paired cognacs with signature Cantonese dishes, the Xiamen event matched the company's premium French brandies with Fujian cuisine. Celebrated chefs and food critics were invited to create a set menu of seven dishes for the event, in collaboration with five prestigious Fujian restaurants in Xiamen and Fuzhou.
The distilling and aging of cognac produces a high-alcohol drink with rich flavor that interacts differently with foods of different flavors and temperatures.
"In China, especially in the south, people like to drink Hennessy cognac with a meal, instead of after a meal, and that inspired us to initiate the campaign," says He Wei-sheng, an established food critic and a principal designer of the menus.
Chinese food, one of the most complex cuisine systems in the world, offers many opportunities to explore how its different flavors interact with cognac, He explains. Before last month's tastings in Xiamen, He and the team had tried all of the signature Fujian-style delicacies to select the most representative dishes to pair with the spirits.
They found that foods made with dried spices, such as jiangmuya, or duck with ginger, and prawns with satay sauce, were able to intensify and change the flavor of Hennessy XO when eaten between sips of the cognac.
They also found that foods that contain warm oil and are rich in meat, such as stewed Hakka-style chicken, will make the cognac rounder and smoother.
Foods such as fotiaoqiang (Buddha Jumping Over the Wall) - with strong but not pungent flavors and foods that contain fermented substances, and creamy soups go well with Hennessy VSOP, elevating the taste and flavor of the cognac to a higher level of complexity.
Seafood, which is important to both Fujian and Cantonese cuisines, but which often has a slightly sweet taste in Fujian cuisine, can intensify the umami flavor of Hennessy Paradis, and bring out the brandy's fruitiness and floral fragrance and a refreshing aftertaste.
The changes in cognac flavor and taste, when consumed with Fujian cuisine, offer a unique dining experience, He says: "Same food, same Hennessy, but when they meet, they become different."
When selecting dishes for the tasting, the team looked for traditional and time-honored delicacies. Beyond meal courses, local snacks and street food, such as tusundong, or seaworm jelly, are also great food choices to go with cognac, he adds.
Southern China, including Fujian and Guangdong provinces, is the traditionally important market for Hennessy cognac, where people are apt to consume cognac at all kinds of business occasions, private celebrations, and family gatherings. The "rediscovering Chinese taste" campaign will come to Beijing and Shanghai soon, in an effort to allow more Chinese families to discover the spirit, according to Frederic Noyere, the brand's managing director in China.