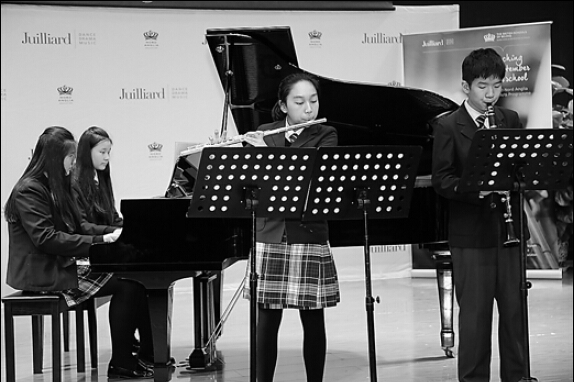 Students of the Beijing British School perform at an event to mark the collaboration with the Juilliard School.[Photo provided to China Daily]
New York's Juilliard School and the British School of Beijing, which has campuses in the city's Sanlitun and Shunyi areas, recently announced their collaboration on an arts curriculum developed by specialists at the renowned conservatory along with support from its alumni and affiliated artists.
Students of the BSB, an institution run by Hong Kong-based Nord Anglia Education, will learn from Juilliard's approach, which uses iconic musical works as "catalysts for learning new skills", according to Andrea Lee, a cellist from the Juilliard School, who was in Beijing to attend a related media event.
Along with a team designing the curriculum, Lee says the repertoire will consist of 12 core musical categories, from Ambush from Ten Sides, a traditional pipa (Chinese lute) solo, to Beethoven's Fifth Symphony.
"The students will learn these works throughout school, and it will give them a deeper engagement with and appreciation for each piece," says Lee, who performed Bach's Cello Suite No 3 in C Major while introducing the collaboration.
"As they discover the joys of music and the performing arts, students can also study the stories behind the scenes, such as key technical elements and fundamentals which support these arts."
She also looks forward to the partnership, which will allow a regular visit of Juilliard artists to BSB, "not just bringing students opportunities to learn from those musicians but also enabling teachers to learn from each other", she says.
According to Andy Puttock, the principal of the BSB, Shunyi, the collaboration between Nord Anglia Education and the Juilliard School started two years ago and 10 schools of Nord Anglia were among the first group to receive the curriculum designed by Juilliard musicians.
By September, all 42 international schools of Nord Anglia, with a total of more than 34,000 students, will benefit from the collaboration, Puttock says.
In July, around 200 students aged between 8 and 18 will go to the summer program of the Juilliard School in Switzerland, where they will learn music, dance and drama.
David Laird, who was the principal of the BSB, Guangzhou, in southern China, and now is the head of the BSB, Sanlitun, recalls what the collaboration brought to his school in Guangzhou.
"Before Juilliard came to the school, we had orchestra and chorus, which were only joined in by few students. But with the musicians, students who were not interested in music also started to play instruments and are excited to see that music is for everyone, not just for a few."
In November, The Juilliard School, which was founded in 1905, announced its first overseas campus for music education in China's northern municipality of Tianjin.
At an earlier media conference in Beijing, school president Joseph Polisi had said that the plan materialized when China's first lady, Peng Liyuan, visited Juilliard's Lincoln Center campus last September while accompanying President Xi Jinping on a state visit to the United States.
China has a "great atmosphere" of Western classical music, with millions of children studying the piano and the violin, Polisi said earlier.
Scheduled to be built by 2018, the Tianjin Juilliard School will be located in the Tianjin Conservatory of Music in the city's Binhai New Area, a 45-minute ride by high-speed rail from Beijing.
chennan@chinadaily.com.cn