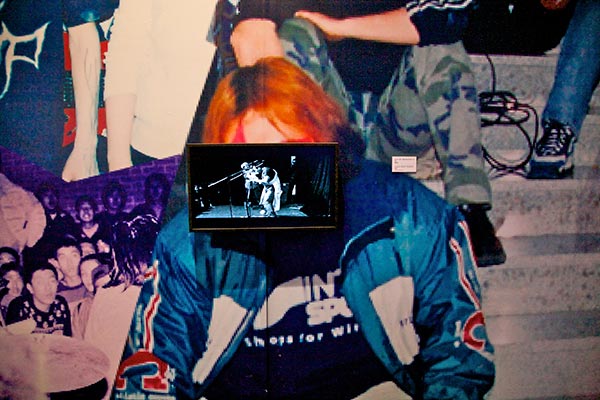 [Photo provided to China Daily]
Rock music as a genre emerged in China during the 1980s, influenced by the West and bonded with tradition. Started by the iconic Beijing-based rock musician Cui Jian and his song
Nothing to My Name
, rock music soon experienced its heyday in China's big cities, especially in Beijing.
However, the development of rock music in second- and third-tier cities across the country seemed to be less known, such as in Shenyang, capital city of northeast China's Liaoning province.
Dong Bingfeng, an artist who graduated from the department of oil painting of Luxun Academy of Fine Art in 1999, witnessed the evolution of rock music Shenyang while he lived and studied in the city. He decided to hold an exhibition to tell about the once vivid, energetic and now-forgotten scene.
Titled Bio-Archiving: Underground Music in Shenyang 1995-2002, the exhibition was launched in Beijing on March 17 and runs through May 4.
Based on an extensive archive of different media, the exhibition contains images audio that display the local emergence of rock music and offer a comprehensive, dynamic vision of its birth and growth.
As curator of the exhibition, Dong recalls that the booming demand for entertainment venues and performances in the wake of a burgeoning market economy in Shenyang boosted the number of rock bands decades ago. Among the bands at that time, A Boy in Thirsty, Malignant Tumor in the End of Days and Day Pills stood as the most active and representative in the city.
"Like rock bands in Beijing, Shenyang's rock musicians also expressed the pursuit of individuality and emotions through their music," says the curator.
He also points out that a number of Chinese avant-garde visual artists have been inspired by the audio experience of rock 'n' roll, while rock musicians have stepped forward into the field of experimental art. Visual artists have frequently engaged in the live music scene while musicians have enthusiastically developed their potential in visual art.
However, the rock music scene is not as vibrant nowadays as in the 1990s, which is a disappointment for Dong.
The exhibition is ongoing through May 4 at Taikang Space, B2 Red No1-B2, Caochangdi, Cuigezhuang, Chaoyang district, Beijing; 010-5127-3130.
Related:
Drawn together by their love of music and passion for French