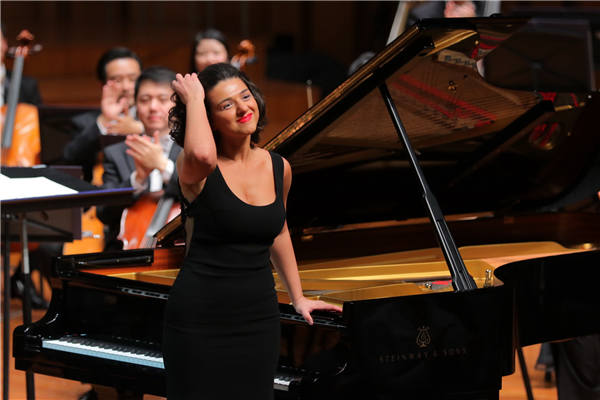 Georgian pianist Khatia Buniatishvili plays with the NCPA Orchestra in Beijing. [Photo by Gan Yuan/For China Daily]
"Freshness" and "colorfulness" are two frequently used words by Georgian pianist Khatia Buniatishvili during an interview she did recently at the National Center for the Performing Arts in Beijing.
She was in the capital performing Sibelius' Tapiola and Symphony No 5 in E-flat Major, and Schumann's Piano Concerto in A Minor in collaboration with the NCPA Orchestra under the baton of Lu Jia.
The 28-year-old pianist says that the young orchestra gives her a feeling of freshness.
"I like their attitude to music. It is very inspiring," she says.
This is the second time she is performing in China. Two years ago, Buniatishvili performed at the NCPA during the Fourth China Orchestra Festival, collaborating with the China Philharmonic Orchestra under the baton of Xia Xiaotang.
"Both the audience here and musicians are prepared. They are keen to understand classical music. And that is close to my personality," she says.
Describing herself as a risk-taker, she recalls her spontaneous collaboration with Chinese pianist Wang Yujia on Johannes Brahms' Hungarian Dance No 1 in G Minor at the Verbier Festival in Switzerland in 2011. They didn't have time to do a rehearsal but the two pianists had lots of fun onstage.
"It's about telling the truth you feel in that moment," Buniatishvili says.
She will also perform in Shanghai on March 18, where she will play pieces from her latest album, Kaleidoscope.