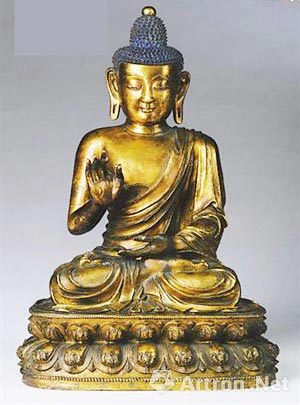 One of the three Buddha statues from the auction in Bordeaux of France. [Photo/Artron.net]
An Asian collector snapped up three seated Buddha statues from China's Ming Dynasty at a French auction on Saturday with more than 6.29 million euros(nearly $7 million), breaking the auction record of its kind.
The Buddhas are seated on lotuses with eyes half open. According to the newspaper Modern Express, the French auction house Briscadieu in Bordeaux said that the three gilded bronze pieces have features of the royal statues made during the Yongle period of the Ming Dynasty. However, they were not made by the royal court, according to the signatures on the statues.
The pieces were originally owned by a private collector in Bordeaux and were estimated to be worth between 400,000 and 600,000 euros ($444,360-666,540).
The auction house said, "These works of great rarity aroused much interest from international collectors including many Chinese." The piece was finally purchased by an Asian collector present at the auction site whose name is unknown.
During recent years, gilded Buddha statues from ancient China's Ming (1368-1644) and Qing (1644-1911) dynasties have been much sought after by collectors, especially the Buddha statues used to award senior monks in Tibet by the imperial court during the Yongle (1403-1424) and Xuande (1426-35) periods of the Ming Dynasty. The exquisite craft and vivid images have ensured that Buddha statues from that period fetch high prices time and again.
Related:
Chinese collectors beginning to splurge on Western art