100 ways of eating potatoes expected to be compiled this summer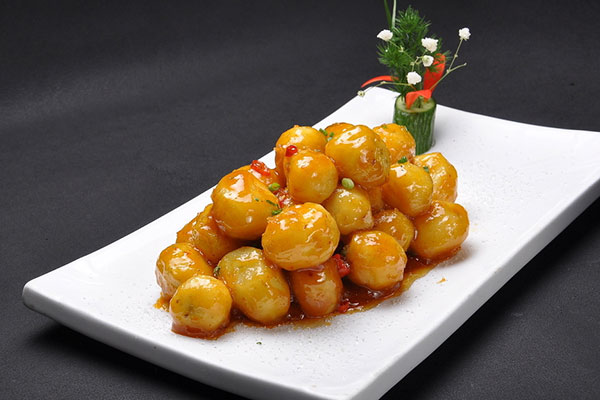 Sweet and sour potato croquette. [File Photo]
The seventh China Potato Expo will be held in Kunming, Southwest China's Yunnan province this June, and a hundred potato dishes selected from around the nation prior to the event will be displayed at the expo, the Ministry of Agriculture said earlier this month.
The report says that the 100 dishes would be selected nationwide – recommended by individuals, restaurants and food companies. The selection process will proceed through March 31, and the selected dishes would be compiled into a book.
The move is part of the nation's agriculture crop plantation adjustment. According to the guideline on developing the potato industry issued by the Ministry of Agriculture on Feb 23, China aims to have 6.66 million hectares on which to grow potatoes by 2020.
The guideline sets the crop to become the nation's fourth food staple after rice, wheat and corn, and that nine pilot provinces, including Beijing, Hebei and Inner Mongolia, are already practicing it. Beijing, for example, has over 200 supermarkets selling steamed buns made from potato powder.
"To set potato as a staple is a significant move in wiping out poverty, yet it means more than just that," said Ma Zhongming, a member of the national committee of CPPCC, in an interview with ce.cn on Sunday.
"Making potatoes a staple doesn't only mean to feed people with it, but rather making better use of it by sending it to the production line. Potatoes could be processed to be more nutritious with better taste and a wider variety," Ma said.
Eating potatoes has many benefits, as it is rich in fiber, naturally fat-free and high in potassium. Such traits help avoid overeating while boosting calcium and protein intake.
Chinese authorities say that the consumption of potatoes for food-staple purposes will be ensured to comprise 30 percent of total potato consumption, and that 30 percent of the potatoes cultivated are varieties that are good for the production of food staples.