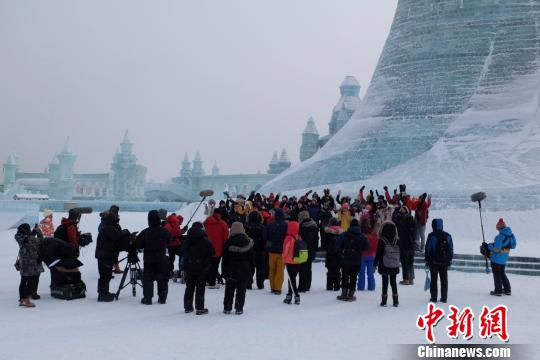 Crew members shoot at the Harbin Ice and Snow Festival. [Photo/Chinanews.com]
"Latiao is the most popular snack for under-25s in China," said two British presenters in a BBC documentary.
Lately, a BBC Documentary series "Chinese New Year: The Biggest Celebration on Earth" has become a hit in China. The series was released in the country on Feb. 29, including three episodes: Migration, Reunion, and Celebration.
Five British presenters get to the heart of China to experience one of the most spectacular events on earth, the Chinese New Year.
They experience the New Year transport rush and crush by visiting Beijing West Railway Station, the biggest Railway Dispatching and Directing Center in Asia; join the largest motorbike flotilla on earth, as thousands of migrant workers in Guangzhou province head for home as New Year approaches. They also go to the Harbin Ice and Snow Festival - an extraordinary sub-zero celebration in China's far north east; discover how the world's best-selling spirit, baijiu, is made in 450 year-old pits and learn the subtle etiquette that surrounds its drinking.