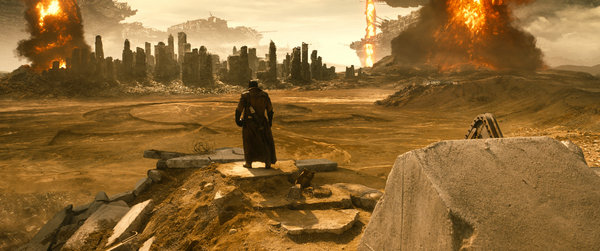 [Photo provided to China Daily]
Lead stars Affleck and Cavill and the movie's director Zack Snyder all came to Beijing. They made headlines in local media with interviews, selfies with Chinese fans, and even transporting Batman's heavy and expensive car to a shopping mall in downtown Beijing. In the past, it used to be either Seoul or Tokyo for Hollywood launches of movies in Asia.
A number of foreign reporters, including from India, Indonesia, South Korea, Singapore and Vietnam, were seen at a Beijing media conference for the movie on March 11.
But to convince the Chinese to watch the movie, more needs to be done.
Unlike in the English-speaking world, where Superman first appeared in DC comics in 1938 and Batman the following year, Chinese children have not been raised on a similar diet.
China officially introduced the two superheroes' comic books in more recent times.
Beijing World Publishing Corp has acquired the copyrights for 28 comic books from DC, and the books have been translated into Chinese since 2011. Some 17 more are expected in the future, according to the Chinese publishing house.
But the movie's stars believe the $250 million project has a global appeal.
"You don't have to be a comics person," Affleck tells China Daily. "It's a classic story that revolves on the evergreen theme of 'good vs evil'. It's about conquering your fear when something very powerful comes."
Affleck, also a screenwriter, had won the Academy Award for best original screenplay with actor Matt Damon for Good Will Hunting (1997).
"A fact about the movie is the (Batman v Superman) writer hasn't read a lot of comic books, but he's produced a good tale," Affleck says.
For director Snyder, the visuals and battle scenes provide the "basic elements for entertaining".
Also, the heroes' inner struggles and the public's skepticism can easily be understood by viewers irrespective of the languages they speak, he says. Batman, for instance, struggles with his childhood nightmare of witnessing his parents being murdered.
"He (Batman) uses the playboy disguise to not think about the pain of losing his family, and it's a way to stop reaching the woes in his soul," Snyder adds.