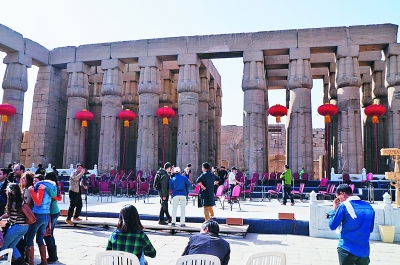 Chinese and Egyptian artists practice for the performance at the Luxor Temple, Jan 21, 2016. [Photo/GuangMing Daily]
Red Chinese lanterns suspended between the ancient stone pillars greeted Chinese President Xi Jinping on Jan 21 (local time) when he visited the Luxor Temple in Egypt.
Located on the east bank of the Nile River, the temple is one of the most famous historic places in Egypt and was built in the 14th century BC. It was decorated in Chinese style to welcome Xi's visit.
The ceremony of the Chinese Culture Year in Egypt and a performance to celebrate the 60th anniversary of Sino-Egyptian diplomatic relations were held at Luxor on Jan 21 (local time).
More than 200 elite performers from both countries staged a cultural dialogue between the two countries; both have deep roots in their ancient civilizations. The sound of traditional Egyptian musical instruments echoed those of traditional Chinese instruments in the 3,000-year-old temple.
China will stage 40 cultural activities in Egypt in 2016, among which are exhibitions on film and TV, books, cultural industry, modern arts and communication among cultural institutions in the two countries.