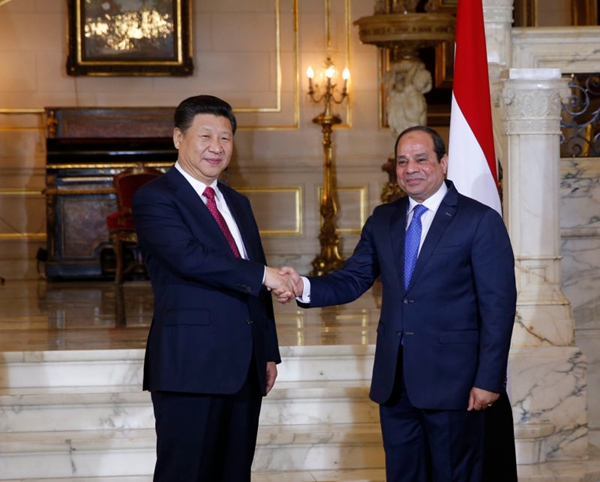 Chinese President Xi Jinping (L) holds talks with Egyptian President Abdel-Fattah al-Sisi at Quba Palace in Cairo, Egypt, Jan 21, 2016. [Photo/Xinhua]
CAIRO - China and Egypt agreed on Thursday to expand cooperation under the Belt and Road Initiative during Chinese President Xi Jinping's state visit to the North African country.
During their talks at the Quba Palace in the morning, Xi, who first proposed the initiative in 2013, and his Egyptian counterpart, Abdel-Fattah al-Sisi, reached extensive consensus on jointly carrying out the Belt and Road Initiative.
Xi proposed that the two countries work together to build the Arab nation into a pivot of the Belt and Road, which comprises the Silk Road Economic Belt and the 21st Century Maritime Silk Road.
To that end, Xi suggested, China and Egypt should conjoin their development strategies and visions and focus on cooperation on infrastructure construction and production capacity.
Meanwhile, China is willing to participate in Egypt's key projects including the development of the Suez Canal Corridor and the construction of a new administrative capital, said Xi.
He added that Beijing is also ready to expand bilateral cooperation in trade, finance, space technology, energy, human resources development and security.
According to a five-year outline document signed on Thursday, the two sides will "double their efforts" to develop the China-Egypt Suez Economic and Trade Cooperation Zone. The document is aimed to cement the comprehensive strategic partnership between the two nations.
The two sides will continue to encourage Chinese companies to invest in the zone and other places, especially those from China's competitive sectors such as textile and steel, said the document.
Xi attended an inauguration ceremony of the second phase of the zone on Thursday. He said the project will bring to Egypt over 100 companies in such sectors as textile, garment, oil equipment, motorcycle and solar energy, and create more than 10,000 jobs for Egypt.