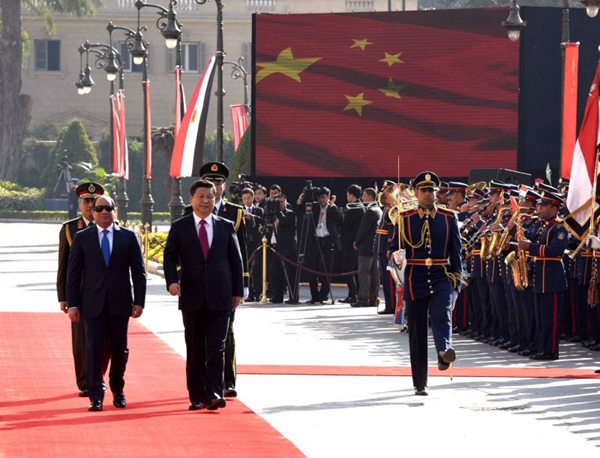 Chinese President Xi Jinping attends a grand welcome ceremony before talks with Egyptian President Abdel-Fattah al-Sisi outside the Quba Palace in Cairo, Egypt, Jan 21, 2016. [Photo/Xinhua]
In the energy sector, the two sides agreed to support companies to set up joint ventures and carry out projects in Egypt, the Middle East and Africa, according to the outline document.
Meanwhile, China will help train 2,000 Egyptians in the five years from 2016 to 2020.
The document said that China will, within its capacity, conduct financing cooperation with Egypt regarding Belt and Road projects.
Following their talks, the two presidents witnessed the signing of a memorandum of understanding on jointly implementing the Belt and Road Initiative.
Also at the signing ceremony, the two sides inked a number of other cooperation agreements covering such areas as electricity, space, infrastructure, trade, energy, fiance, culture, media, technology and climate change.
The deals are worth $15 billion, said Egyptian local media Ahram online, quoting Minister of International Cooperation Sahar Nasr.
China, Xi said, attaches great importance to its ties with Egypt, and supports the Arab country's efforts to restore stability and choose a development path that fits its own conditions.
The Chinese president urged the two countries to firmly support each other's core interests, step up coordination within the United Nations, and maintain communication on both regional and global affairs, such as the Middle East situation and climate change.