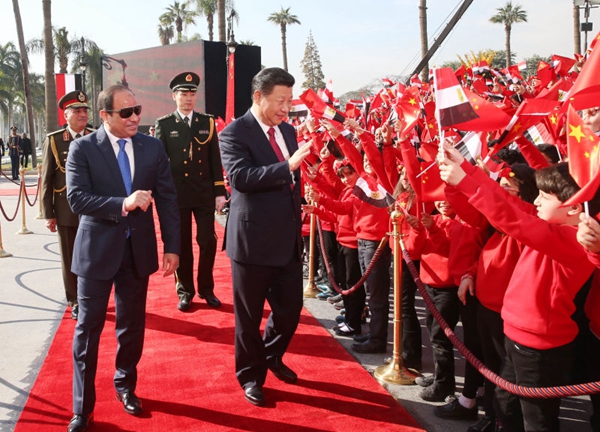 Children cheer as Egyptian President Abdel-Fattah al-Sisi walks with President Xi Jinping at the presidential palace in Cairo, Jan 21, 2016. [Photo/Xinhua]
In the meeting, Xi also invited al-Sisi to attend the Group of 20 (G20) summit in the Chinese city of Hangzhou in September.
For his part, al-Sisi said Xi's visit, which comes upon the 60th anniversary of bilateral diplomatic ties, will greatly boost the comprehensive strategic partnership between the two countries.
Egypt is willing to connect its own development plans with the Belt and Road Initiative and expand infrastructure cooperation with China under the framework of the Asian Infrastructure Investment Bank, he said, while calling for more Chinese investment in his country.
The Egyptian president thanked Xi for the invitation to the G20 Hangzhou summit as a guest of honor, and expressed his country's appreciation of China always being fair and just on Middle East issues.
Describing China as a traditional partner of the Arab and African nations, he said his country will help deepen the friendship between the Arab world and China, and work more closely with China within the Forum on China-Africa Cooperation.
The two countries established the partnership in December 2014 when al-Sisi visited China.
Xi also visited Egypt's newly-elected parliament and addressed the Cairo-based Arab League on Thursday afternoon.
The Chinese president arrived in Cairo on Wednesday, 16 years after his last trip to the Arab country, which now looks forward to taking a ride on the train of development powered by the world's second largest economy.
Before traveling to Egypt, the Chinese leader visited Saudi Arabia, the first leg of his three-nation Middle East tour, which will also take him to Iran.