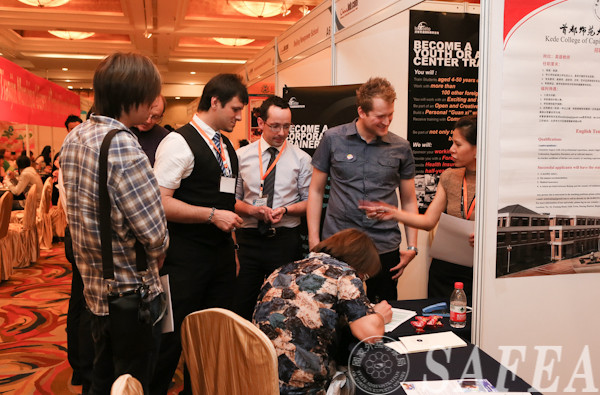 There were over 900 expats participating in the Beijing fair that just concluded last Saturday. [Photo/SAFEA]
"Candidates have to be native speakers, with at least two years' teaching experience. And a Teaching English as a Foreign Language (TEFL) certificate is a must," said Robert Deters, New Oriental School's foreign teacher recruiter at the 2015 Job Fair for Foreigners held in Beijing last Saturday.
Demanding as it seems, the requirements Robert put forward are in fact the prerequisites for almost all schools - private or public – recruiting at the job fair.
"It speaks to how expectations have been raised for expats trying to get a decent job in China as the number of them has increased yearly in the country," says Dou Xingwang, CEO of Panda Guides, who also ordered a booth at the job fair looking for possible employees.
According to a report issued by China's National Bureau of Statistics, the number of expats working in China saw a 19 percent rise from 201,955 in 2010 to 240,000 in 2012, and the figure is still rising.
Decent jobs in China are indeed becoming harder to obtain. The media, the second largest job source at the fair, for example, would only consider expats with a minimum of two to five years' related working experience – the former like a China Central Television (CCTV) reporter and the latter a CCTV or China Radio International (CRI) host. Even for copy editing jobs, the candidates need to have related working experience and at least a related bachelor's degree.
"To nail in the market as a starter, we just have to go further to impress the employers," said Edward, an exchange student majoring in power system automation at China's Aviation and Aerospace University.
Edward said he is also considering joining his dual degree girlfriend to sign up for Chinese classes as Chinese language skills have become a must for the engineering and business sectors he's interested in.