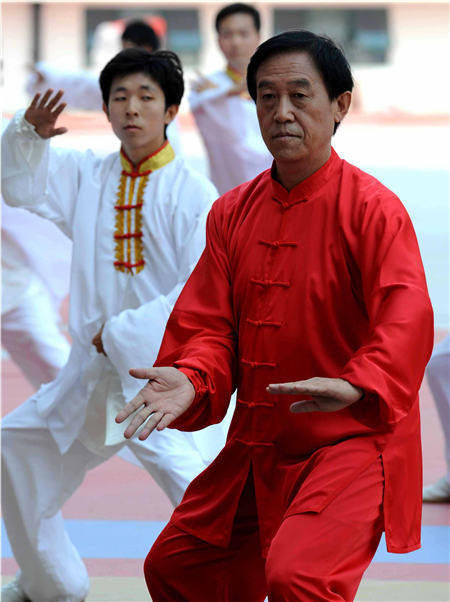 Chen Zhenglei [Photo by Zhu Xiang/Xinhua]
It would be impossible to tell the story of Chenjiagou and the rise of Chen tai chi without mentioning the "Four Tigers of Chen Village" - the tai chi masters chiefly responsible for taking the family art beyond the village walls in the later part of the 20th century.
But for the efforts of these four - Chen Xiaowang, Chen Zhenglei, Wang Xi'an and Zhu Tiancai - and the visionary teachers who cultivated them, Chen Zhaopi and Chen Zhaokui, Chenjiagou might today be merely a sleepy, nondescript farming village tucked in among the trees just north of the Yellow River.
"If it was not for tai chi, my grandfather would still be a common farmer," said Lu Dongdong, grandson of Chen Zhenglei.
Instead, the original form of tai chi has taken root in more than 100 countries across the globe in just three decades, due to the tireless efforts of the "tigers" to promote the traditional art and educate millions, through workshops, books and DVDs, about its health benefits and martial qualities.
Leading Chen tai chi masters from two generations agreed that, going forward, education - long a pillar of Chenjiagou - will hold the key to anchoring the village's newfound prosperity.
To this end, village planners and visionaries, after years of discussions, are finally drawing up the plans for a tai chi university in or near the village where the martial art originated.
"This topic has been talked about for decades now," Chen Zhenglei, who is on the country's list of Top 10 contemporary Chinese martial artists, said in an exclusive interview with China Daily. "The leaders of our province, county and village are looking closely at it. The point is to train people of high ideological quality and a high level of cultural knowledge, and they also need to speak a foreign language.