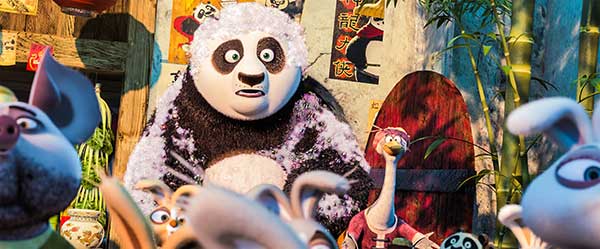 The third installment of Kung Fu Panda, a coproduction of DreamWorks Pictures, Shanghai-based Oriental DreamWorks and the China Film Group Corporation, will be released in China and the United States on Jan 29.[Photo provided to China Daily]
Still set in ancient China, the third film is about Po's reunion with his long-lost father and a new mission to defeat an evil ox warrior known as Kai.
A 26-minute trailer, covering the English and the Chinese versions, was released last week. Viewers say they are impressed by the humor and Chinese-style landscapes.
In the film, when Po, guided by his biological father, walks into an isolated panda village, the heavy smog dissipates and verdant mountains appear.
Yuh says that the village is inspired by Sichuan's picturesque Qingcheng Mountain, one of the most famed landmarks for Taoist martial arts practitioners in Chinese wuxia books.
The South Korean American female auteur also visited a giant panda research base in Chengdu, the capital of Sichuan province.
She incorporates real panda behavior in the movie.
For example, in the movie, the lazy Po is delighted to find a giant panda rolling to get down from a hillside instead of walking.
"The setting of the film is China. We were looking for Po to learn about traditions he may not know," Yuh tells China Daily.
Research on Chinese culture and animal characteristics formed a significant part of work for the crew.
The first time Yuh met her Oriental DreamWorks' colleagues, some Shanghai animators wore artificial fur costumes to let the American team feel what it is like to touch a panda. Others wore ancient Chinese costumes to show them how Chinese warriors salute and move.
Mark Osborne, director of the original Kung Fu Panda and now known to Chinese audiences for the animation flick, The Little Prince, told China Daily in an e-mail: "I think what makes Po engaging is that he represents a common spirit within us all ... that is the power of his character. I believe that we can all see ourselves in him in some way," he says.
He says the understanding that "an American ideal that drives him" is limiting. "We all have the potential for greatness inside of us, and which child does not lie in bed and dream about becoming like his hero."
This seems true for Po's Chinese voice actor Huang Lei, who says that his 9-year-old daughter is proud that her father is the voice of her hero.
The Chinese version also features the voices of kung fu star Jackie Chan and Taiwan top singer Jay Chow.